Milestones in EPA's Homeland Security Research History
EPA turns 50 this year. Since the beginning, our Agency has been grounded in science. EPA's homeland security research strengthens the resiliency of communities in the U.S.  Our work provides water utility managers, on-scene coordinators, laboratory technicians, risk assessors, and emergency responders with the tools, methods, technology, and support to prepare for, respond to, and rapidly recover from all environmental disasters. Here are some of our most important research achievements over the last 50 years. 
See also:
History of EPA Research
EPA at 50: Progress for a Stronger Future
2001 - EPA Develops a Method to Find Asbestos-Contaminated Dust from the World Trade Center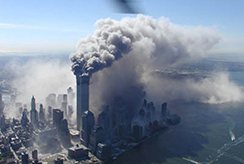 The collapse of the World Trade Center (WTC) towers on Sept. 11, 2001 covers much of New York City in  dust and rubble that includes asbestos. The dust also penetrates buildings. Public health officials raise concerns about the health effects from exposure to the dust. EPA and their partners at the United States Geological Survey develop an analytical method to distinguish WTC dust from dust from other sources. This helps scientists supporting the World Trade Center Expert Technical Review Panel determine the extent of contamination from WTC dust.
EPA History: World Trade Center (9/11)
EPA Response to September 11
World Trade Center Expert Technical Review Panel Formed by EPA Panel to Begin Assessments in March
 
2001 - EPA Supports Fumigation of Anthrax at a Postal Facility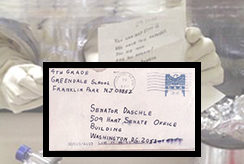 A letter containing anthrax spores contaminates the 14 million square foot Brentwood post office in Washington, DC. Two postal employees die from exposure to the anthrax. Despite early cleansing operations that focus on the specific areas of contamination, anthrax is found to have spread throughout the building. The US Postal Service (USPS) decides to fumigate the entire building to inactivate the remaining spores. EPA researchers oversee and provide advice on the fumigation including reviewing numerous documents on tests and trials of different components of the scrubbing system to ensure the fumigation is successful and does not result in releases that could be harmful to the public. EPA's work allows the USPS to obtain Federal Insecticide, Fungicide, and Rodenticide Act Crisis Exemptions needed to perform the fumigation.
2004 - EPA Founds the National Homeland Security Research Center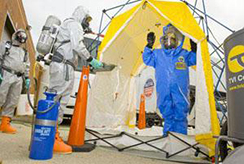 Following the terrorist events of Sept. 11, 2001, EPA's mission expands beyond safeguarding the natural environment (i.e., air, water, and land) from traditional sources of pollution. In 2004, EPA forms the National Homeland Security Research Center  to conduct research that answers scientific questions to support homeland security. EPA's Homeland Security Research Program continues to provide science and technology needed to effectively respond to, and recover from, natural or manmade disasters.
National Homeland Security Research Center Created by EPA
EPA's Homeland Security Research
2004 - EPA Releases Methods to Analyze Samples During Homeland Security Events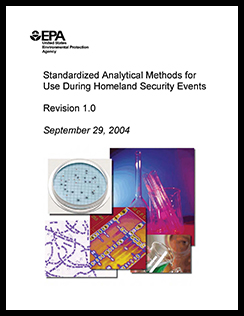 In the aftermath of the terrorist attacks of Sept. 11, 2001, EPA identifies the need to have a list of pre-evaluated analytical methods to be used by all laboratories when analyzing homeland security incident samples. Having consistent methods reduces confusion, permits sharing of sample load among laboratories, improves data comparability, simplifies the task of outsourcing analytical support to commercial laboratories, and improves validating results, analyzing data and making decisions. To meet this need, EPA publishes The Selected Analytical Methods manual and website to describe methodologies that EPA and its contractors can employ to analyze environmental samples in times of national emergency.
 
Selected Analytical Methods for Environmental Remediation and Recovery (SAM)
2005 - EPA Hosts the First International Decontamination Research Conference
The International Decontamination Research and Development Conference brings together experts from around the world to share best practices, and research findings, and to discuss ongoing research needs. The conference continues to cover the decontamination processes and technologies, cutting edge research and development, and lessons learned concerning biological, chemical and radiological contamination.
2018 EPA International Decontamination Research and Development Conference
2005 - EPA Supports Anthrax Cleanup with Laboratory Data
A US Department of Defense laboratory inadvertently sends samples of live anthrax spores to many local and state labs. Many of these labs are not equipped or approved to receive such hazardous samples. Further, the shipments have potentially been occurring for many years and staff have been handling these samples in labs unequipped for the hazard. The Centers for Disease Control and Prevention activates its Emergency Operations Center and requests that experts from EPA join their staff to provide guidance on decontamination. Acceptable decontamination options are based largely on EPA laboratory test data. A total of 69 laboratories located in 19 states and six countries are ultimately affected. All of the labs are cleaned up quickly and effectively with EPA's guidance and technical support, avoiding the potential of serious illness and death.
EPA's Environmental Sampling and Methods Program
2005 - EPA Researchers Deploy New Tool for Hurricane Katrina Response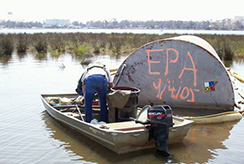 Hurricane Katrina generates a tremendous amount of waste and causes catastrophic damage in Florida and Louisiana. EPA researchers use the Incident Waste Assessment and Tonnage Estimator (I-WASTE) tool they developed to help make decisions on disposal of waste during the cleanup. I-WASTE helps to organize large amounts of information related to managing waste resulting from incidents of national significance such as contaminated buildings and natural disasters. It provides a waste volume estimator as well as information on shipping and disposal facilities.
EPA's Incident Waste Management Planning and Response Tool (I-WASTE)
2006 - Ann Arbor Uses EPA's Toolkit to Detect Contamination in Drinking Water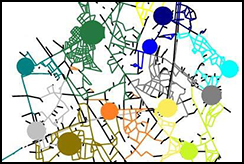 The Threat Ensemble Vulnerability Assessment and Sensor Placement Optimization Toolkit (TEVA-SPOT) enables water utilities to optimize the locations of water quality sensors to improve detection of contamination. The City of Ann Arbor used TEVA-SPOT to find the best set of sensor locations within their drinking water distribution system to minimize average public health effects that would result from release of a chemical contaminant or biological agent. Many water utilities continue to use TEVA-SPOT to detect contamination.
TEVA-SPOT Toolkit and User's Manual- version 2.5.2
2007 - EPA Releases EPANET Multi-Species Extension Software to Protect Water Systems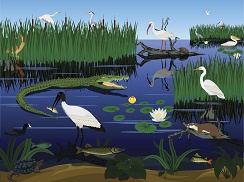 The original EPANET is a popular software program used to model hydraulic and water quality behavior of drinking water distribution systems. Its water quality component was limited to tracking the transport and fate of just a single chemical species, such as chlorine. The new EPANET-Multi-Species Extension (MSX) allows users to model any system of multiple, interacting chemical species.  EPANET-MSX and EPA's other homeland security support tools reduce vulnerabilities in drinking water distribution systems  in several ways. They prevent and better prepare water systems for terrorist attacks, minimize public health impacts and infrastructure damage, and enhance recovery efforts from contamination incidents.
EPANET Multi-Species Extension Software and User's Manual
2009 - Researchers Use Ultrafiltration Device to Detect Microorganisms in Drinking Water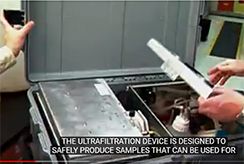 Moving and handling large volumes of potentially contaminated water is a safety concern for transportation and laboratory personnel and the public.  To adress these concerns, EPA researchers, in partnership with the Department of Energy's Idaho National Laboratory, develop a rugged and automated field deployable sample concentration (ultrafiltration) device. The device can concentrate the microbes contained in a 26-gallon sample into a sample of fewer than 16 ounces, often in less than one hour. The smaller, concentrated sample is  safer to transport to a lab.
Award-winning Ultrafiltration Device Used to Aid in the Detection of Microorganisms in Drinking Water
Automated Ultrafiltration Device (Full length video)
2010 - Researchers Use New Tool to Measure Contamination After Mock Dirty Bomb Attack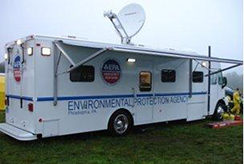 EPA researchers demonstrate their new Waste Estimation Support Tool (WEST) during a simulated "dirty bomb" attack.  WEST assists the researchers with estimating the potential volume and radioactivity levels of waste generated by a radiological incident and subsequent decontamination efforts at a terrorist attack. The exercise, called Liberty RadEx, is the largest drill of its kind sponsored by EPA to test the country's capability to clean up and help communities recover from a dirty bomb attack. The Pennsylvania Department of Environmental Protection and City of Philadelphia co-sponsored the five-day homeland security exercise in Philadelphia.  Over 700 people from federal, state, and local agencies and private companies take part in the drill. 
Liberty RadEx drill to test national clean-up and recovery efforts after mock 'dirty bomb' attack
Waste Estimation Support Tool (WEST)
2011- EPA's Methods Help the Fukushima Daiichi Emergency Responders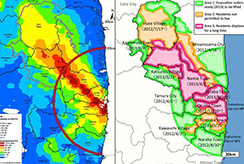 EPA's Selected Analytical Methods (SAM) is a list of analytical methods that scientists use to analyze environmental samples in times of national emergency. When Fukushima's Daiichi nuclear power plant releases radiological contamination after an earthquake and tsunami, EPA provides SAM data for two radioactive elements, cesium and iodine, to help emergency responders analyze samples taken from the nuclear power plant. 
Selected Analytical Methods for Environmental Remediation and Recovery (SAM)
2011 - EPA Supports the Cleanup of the Fukushima Daiichi Nuclear Accident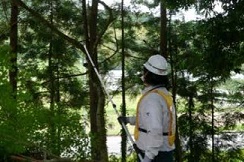 The release of radiological contamination at Japan's Fukushima Daiichi nuclear plant becomes the largest nuclear disaster since Chernobyl in 1986. Japan requests help through its diplomatic contacts. The US Embassy Science Fellow Program provides a team of radiological decontamination experts, including one member from EPA. The team draws upon their experience with large-scale projects at Department of Energy and EPA to provide information, lessons learned, and suggestions of technologies to benefit the remediation efforts in Japan.
U.S Science Fellows Support to the Government of Japan: Observation and Commentary on the Remediation of the Areas Off-site from the Fukushima Reactors
2013 - The Bio-response Operational Testing and Evaluation Project Tests and Evaluates Decontamination Techniques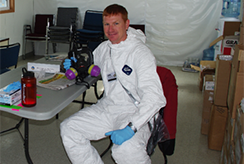 The Bio-response Operational Testing and Evaluation (BOTE) project is a multi-agency effort that tested and evaluated decontamination techniques for a biological incident. BOTE researchers evaluated three technologies for decontaminating a building by simulating an anthrax attack using nonpathogenic surrogate to Bacillus anthracis spores, which cause anthrax infection. Researchers collected data to compare the success and cost of the decontamination methods. The results have been used to help guide further decontamination research to ensure effective response to biological attacks.
Bio-response Operational Testing and Evaluation Project
2014 - EPA Provides Technical Support for Waste Contaminated with Ebola Virus
During the Ebola outbreak in 2014, EPA experts worked closely with the Centers for Disease and Prevention to publish recommendations on disinfectants for use against the Ebola virus because none were previously registered under the Federal Insecticide, Fungicide, and Rodenticide Act (FIFRA). Following the outbreak, EPA recognized the need for standing guidance on addressing emerging pathogens so that these incidents are not handled in an ad hoc manner. The scientific approach that was used to address Ebola virus was translated into new guidance for FIFRA registration of antimicrobial disinfectants targeting emerging pathogens based upon existing efficacy data on analogous pathogens.
Pesticide Registration-List L: Disinfectants for Use Against the Ebola Virus
Consequence Management Advisory Division's (CMAD) Annual Reports > 2015 CMAD Annual Report
2014 - EPA Launches the Water Security Test Bed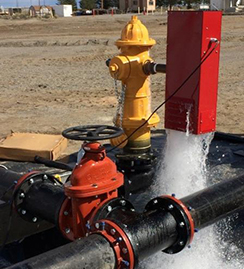 Advancing the science of decontaminating pipe systems and safely disposing of high-volumes of contaminated water are high priorities for EPA. Researchers develop the first large-scale water security test bed (WSTB), which is part of a full-scale drinking water distribution system. Researchers use the WSTB to evaluate infrastructure decontamination technologies previously tested by the EPA at the bench- and pilot-scale. The test bed allows for injection of contaminants that cannot be tested in municipal water facilities. EPA researchers can now evaluate decontamination methodologies to determine which are best suited for use by water utilities. The WSTB facility also enables testing of water treatment technologies for the effective management of the water that is discharged from the contaminated pipeline into a 28,000-gallon lagoon. In addition, decontamination methods for building plumbing and household appliances can be evaluated in an adjacent building.
2016 - EPA Co-leads Underground Transportation Restoration Project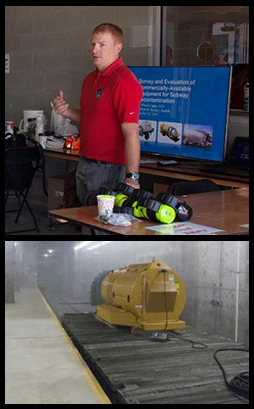 Following a biological incident in a transportation hub such as a subway system, effective remediation of railcars, subway tunnels, and stations would require the use of various approaches to characterize, clean-up, and clear the contaminated area for reentry and reuse. The U.S. Department of Homeland Security initiated the Underground Transport Restoration Project in 2013 to improve the capability of transit systems to recover rapidly from a biological contamination incident. As part of the project, EPA researchers evaluated multiple methodologies for decontaminating subway system and railcars contaminated with anthrax. The study yielded valuable information on the types of materials most difficult to decontaminate and which decontamination chemicals were most effective.
 


Underground Transportation Restoration Project
Decontamination Options for Restoring Subway Systems following a Bacillus anthracis Contamination Incident
2017 - EPA's Water Treatment Cart Helps Puerto Rico Recover from Hurricane Maria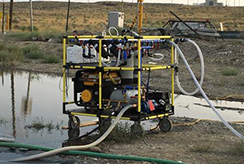 In the aftermath of a disaster, people need access to safe and clean drinking water. EPA and the non-profit cooperative research and development agreement partner, WaterStep, develop an inexpensive and easy to operate water treatment cart featuring granulated activated carbon, ultraviolet disinfection and chlorine disinfection to rapidly treat heavily contaminated water. The Water-On-Wheels cart enables treatment for a wide range of natural and man-made contaminants quickly and effectively. Following Hurricane Maria in Puerto Rico, EPA deploys smaller versions of the water treatment technology to provide safe drinking water to over 200,000 residents.
Video: Clean Water to Puerto Rico Hurricane Victims Through EPA - WaterStep Collaboration Exit
2017 - EPA Develops a Fentanyl Fact Sheet to Protect Emergency Responders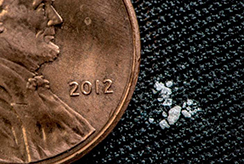 A small amount (~1 mg) of the dangerous opioid fentanyl can kill someone. That is why first responders are concerned about potential exposure while responding to emergencies. EPA researchers and staff worked together to develop the publicly available Fentanyl Fact Sheet. It gives EPA On-Scene Coordinators current information and is also useful for emergency medical technicians, hazmat teams, and law enforcement. In the process of developing  the Fentanyl Fact Sheet, EPA experts also identified gaps associated with fentanyl remediation efforts, such as a lack of information on how to decontaminate structures and proper sampling to determine a safe level for re-occupancy. Without this information, fentanyl-contaminated properties are left condemned. EPA researchers are addressing these gaps so that information will be available to responders and can be used to facilitate a remediation strategy.
Fact Sheet: Fentanyl and Fentanyl Analogs
2018 - EPA Helps the US Coast Guard Analyze the Resiliency of its Ships and Coastal Property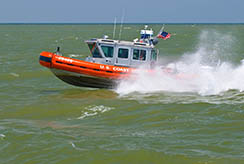 EPA collaborates on a full-scale demonstration and exercise project to prepare for potentially devastating contamination incidents. The project, called Analysis for Coastal Operational Resiliency (AnCOR) is designed to develop and demonstrate capabilities and strategic guidelines to prepare the nation for a wide-area release of a biological agent at US Coast Guard facilities and assets (e.g. ships). This program develops science-based results to support wide-area response and remediation decisions. AnCOR continues through 2022 and includes experiments from the laboratory bench scale through the pilot scale. It will conclude with a large-scale demonstration.