Asbestos and Small Business Ombudsman
Advocate. Connect. Serve.
In one comprehensive program, the Asbestos and Small Business Ombudsman (ASBO) serves two distinct roles: (1) the Asbestos Ombudsman role, mandated under the Asbestos Hazard Emergency Response Act (AHERA) and (2) the Small Business Ombudsman role, mandated under The 1990 Clean Air Act Amendments. As an EPA liaison for the general public and small business community, the ASBO helps make technical resources on environmental regulations, asbestos, and compliance assistance information more accessible. The ASBO also fosters partnership opportunities for collaboration to assist small businesses in achieving their environmental performance goals and to address asbestos-related questions.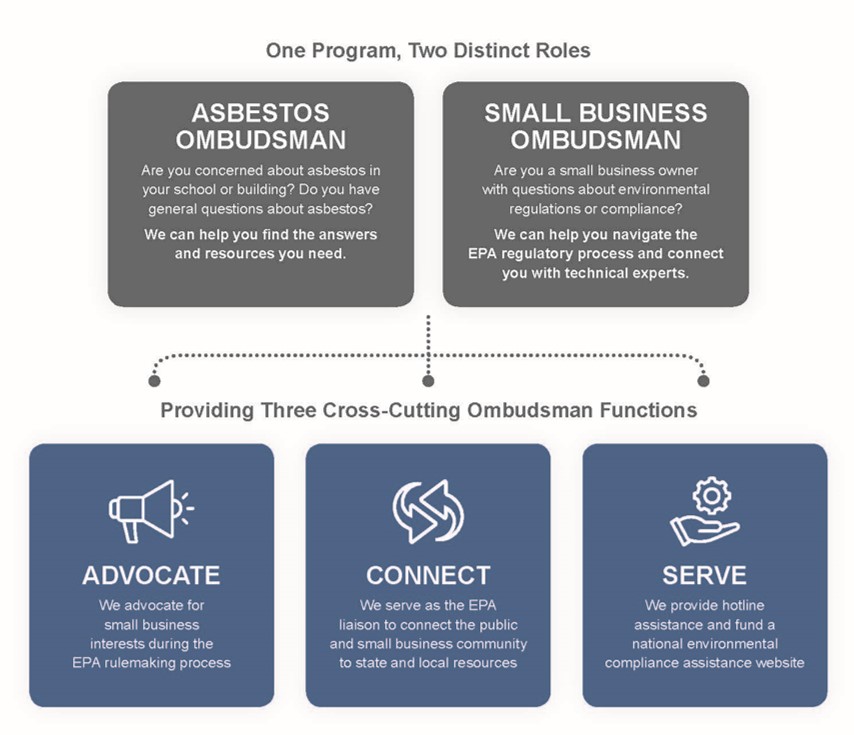 ASBO Program Services
Disseminates regulatory and small business outreach information with stakeholders and issues a monthly news bulletin, SmallBiz@EPA, for the small business community.
Services a toll-free hotline (800-368-5888) and email (asbo@epa.gov) to address small business and asbestos complaints or inquiries.
Serves as a liaison for small businesses that request ombudsman support for informal guidance when responding to environmental compliance or enforcement issues.
Funds a national website to help increase small business environmental compliance  National SBEAP Website. EXIT
Fosters partnerships with state and federal governments as well as trade associations on small business environmental regulations and compliance.
Advocates for increasing small business considerations and perspectives during the EPA rule making process in support of EPA's Section 213 Program of the Small Business Regulatory Enforcement Fairness Act (SBREFA), which is intended to support small businesses in accessing guidance, technical assistance, and advice regarding environmental regulations and compliance.
Contact ASBO
Office of Small and Disadvantaged Business Utilization (OSDBU)
1200 Pennsylvania Avenue, N.W.
Washington, D.C. 20460
Mail Code: 1230A
Hotline: 800-368-5888
Fax: 202-566-1505