Basic Information for the Review of New Chemicals
On this page:
What is the TSCA New Chemicals Review Program?
Mandated by section 5 of the Toxic Substances Control Act (TSCA), EPA's New Chemicals program helps manage the potential risk to human health and the environment from chemicals new to the marketplace. The program functions as a "gatekeeper" that can identify conditions, up to and including a ban on production, to be placed on the use of a new chemical before it is entered into commerce. 
Read section 5 of TSCA, (15 USC 2604).
See New Chemicals policies and guidance.
---
What is a "new chemical"?
For purposes of regulation under TSCA, if a chemical is on the TSCA Inventory, the substance is considered an "existing" chemical substance in U.S. commerce. Any chemical that is not on the Inventory is considered a "new chemical substance."
Learn more about the TSCA Inventory.
---
Who must submit a premanufacture notice (PMN) to EPA?
Section 5 of TSCA requires anyone who plans to manufacture (including import) a new chemical substance for a non-exempt commercial purpose to provide EPA with notice before initiating the activity. This notice is known as a premanufacture notice (PMN).  Refer to chart below that details steps for determining whether a submission is required on a chemical substance.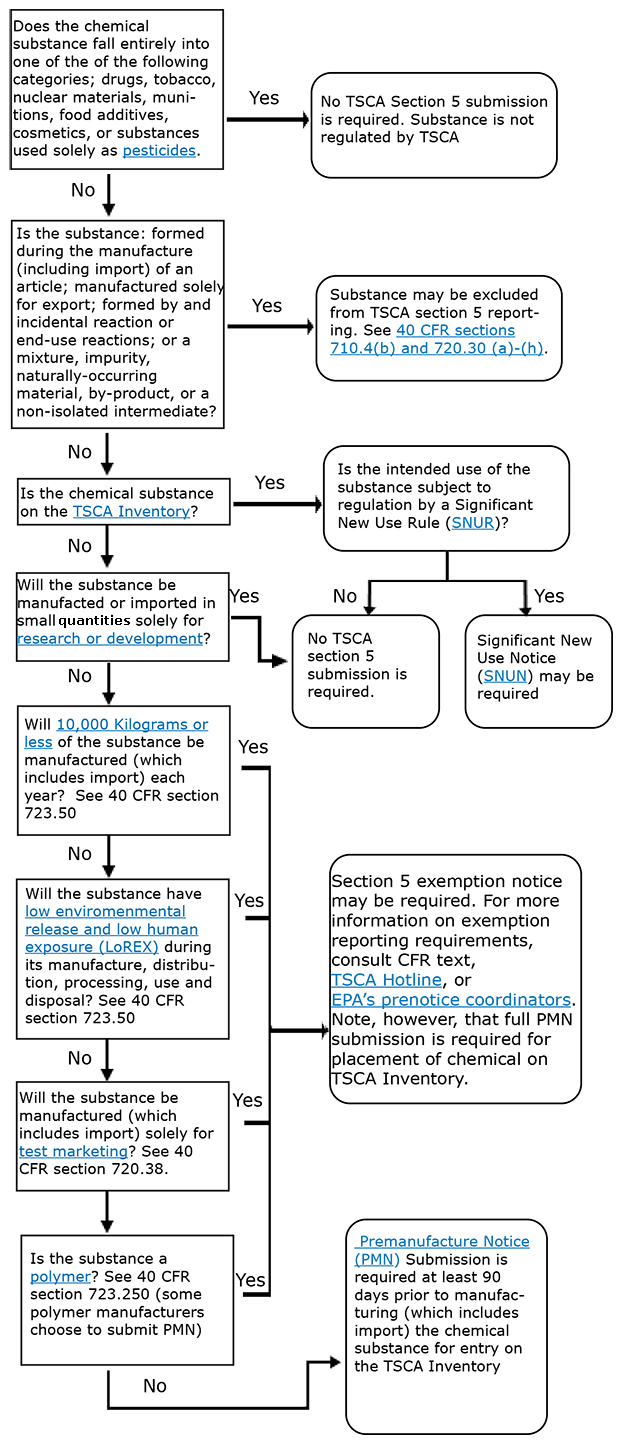 Read more about how to file a notice with EPA's new chemicals review program.
---
Search the TSCA Inventory before submitting a new chemicals notice
EPA classifies chemical substances as either "existing" chemicals or "new" chemicals. "Existing" chemicals are chemicals that were already in commerce when TSCA was enacted in 1976 or chemicals that have undergone PMN review and are listed on the TSCA Inventory. To determine if a substance is a "new" chemical, consult EPA's Toxic Substances Control Act Chemical Substance Inventory -- commonly referred to as the Inventory, which lists "existing" substances.
Any substance that is not on the TSCA Inventory is classified as a new chemical. Prior to manufacture (including import) of a new chemical for general commercial use, a notice must be filed with EPA under section 5 of TSCA.
Learn more about EPA's Toxic Substances Control Act Chemical Substance Inventory