Basic Information about the San Juan Watershed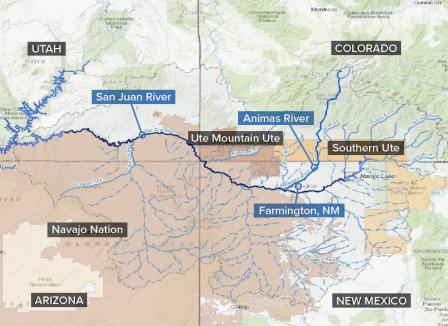 The San Juan River and encompassing rivers.The San Juan River is approximately 355 miles long, and originates in the San Juan Mountains in southwestern Colorado. It flows westerly into New Mexico and is detained in the Navajo Reservoir. The river continues into southern Utah and ultimately terminates in Lake Powell in Utah. Lake Powell lies on the Colorado River, along the Utah-Arizona border. At 186 miles long and with 1,960 miles of shoreline when full, it is the second largest manmade reservoir in the country.
The 126-mile long Animas River originates in the mountain peaks northeast of Silverton, Colorado. It flows southward and into the San Juan River in Farmington, New Mexico.