Initial Long-Term Monitoring in the San Juan Watershed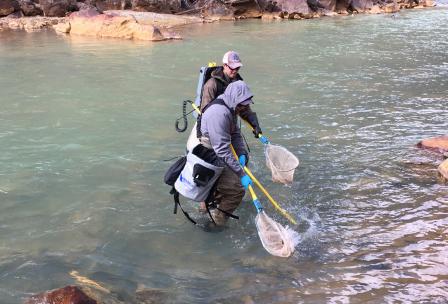 Field crew captures a rainbow trout (Oncorhynchus mykiss) in the Animas River.EPA and the states and tribes in the watershed have worked together to identify watershed-wide and state and tribe-specific priorities that will supplement previous and ongoing monitoring and assessment activities, enhance understanding of the condition of the San Juan watershed, and identify future opportunities for improving watershed protection.
The 2017 WIIN Act appropriation is funding critical activities, including:
Evaluating existing water quality information and conducting targeted sampling throughout the watershed through surface water, sediment, and biological monitoring.
Maintaining sondes (electronic probes) throughout the watershed to provide real-time data that can inform management decisions, including closure of drinking water intakes if necessary.
Initiating core sampling in Lake Powell to better understand historical and ongoing deposits in the lake.
Assessing the direct and indirect exposure of humans and livestock to metals in the San Juan and Animas Rivers and reviewing existing water quality standards for livestock and agricultural irrigation.
Evaluating connectivity between surface water and groundwater along the Animas River.
Identifying and delineating the extent of cultural uses of Animas River waters to understand how contaminants
may affect tribal uses.
Conducting outreach, assessments, and collaborative activities to communicate the current condition of the watershed.
Future Activities
While funded activities may vary each year, EPA and states and tribes will use any additional appropriations to:
Continue to assess additional monitoring needs.
Expand public communication and outreach efforts to capture the additional data collected during each subsequent year of monitoring.
Support additional state- and tribe-specific activities that inform state and tribal watershed management decisions.