Community Activities
On this page:
Reducing Environmental Hazards
EPA supports community-based problem solving through grants and technical assistance to address health threats posed by a range of environmental hazards in the valley. EPA's work in the San Joaquin Valley has been strengthened by engagement and support of a number of local efforts and organizations.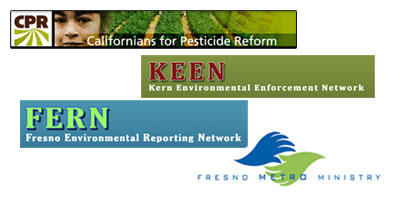 In Kern and Fresno Counties, EPA partnered with Californians for Pesticide Reform and Fresno Metro Ministry, awarding a children's health grant and an environmental justice (EJ) grant to create Web-based systems to monitor, track and address environmental hazards: the Kern Environmental Enforcement Network (KEEN)Exitand the Fresno Environmental Reporting Network (FERN).Exit
These projects aim to improve enforcement of environmental health laws by creating partnerships between community members and local agencies, establishing task forces and removing barriers to reporting suspected environmental violations. To date, the KEEN and FERN websites have received nearly 80 reports of environmental violations.
Another EJ grant supported Greenaction for Health and Environmental Justice's project to reduce diesel emissions in Kettleman City and Avenal through an effort to stop unnecessary truck and bus engine idling. Among the results were the signing of "Good Neighbor" agreements by nine local businesses. Participants included community members, businesses, truckers, trucking companies, schools and bus drivers.
Drinking Water Challenges
In some parts of the valley, drinking water wells are contaminated with nitrate, arsenic and other chemicals. Under an EPA EJ grant, the Community Water Center's (CWC) Protecting Groundwater from the Ground Up project has provided assistance to 25 communities and worked with 141 residents from Fresno, Hanford, Modesto, Visalia, Delano, Merced, Lodi and surrounding areas to increase understanding of drinking water pollution and how it can prevented. It also trained 28 community members to participate in decision-making processes at various levels of government.
In addition, CWC leveraged additional funding to provide direct organizing, technical and advocacy assistance to 19 communities with water problems in San Joaquin Valley and Coachella Valley.
Revitalizing Fresno
In Fresno, EPA worked with a team of federal agencies to support the city's plans for economic growth and revitalization. As the lead agency in the Fresno pilot of the Strong Cities, Strong Communities Initiative, EPA advanced its mission to protect public health and the environment by supporting the mayor's goals of redeveloping downtown Fresno and reversing decades of growth outward into some of the world's most productive agricultural land.
Protecting Children's Health
EPA has also been using its enforcement authority to protect children's health in the valley by making sure that federal lead paint safety laws are followed. In Fresno and Clovis, a property management company spent $74,000 to replace windows that contained toxic lead-based paint with new energy-efficient windows. The company also paid a $7,500 penalty for failing to inform tenants about potential lead hazards. Infants and children are particularly vulnerable to exposure to lead from paint, which can result in permanent neurological damage and other health issues.
---