NanoMech, US EPA SBIR Award Recipient: 2014 Tibbetts Award Winner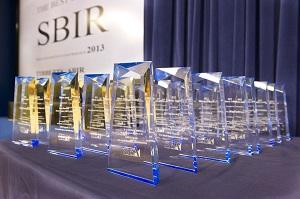 June 2014 - NanoMech, a U.S. Environmental Protection Agency (EPA) Small Business Innovative Research (SBIR) award recipient in 2004 and 2005, received the 2014 Tibbetts Award for its coating technology, which can improve manufacturing processes by extending the life of tools used in automotive and aerospace industries. This award is presented by the Small Business Administration to small businesses and individuals that have exemplified the mission of the SBIR program, and have demonstrated outstanding SBIR leadership.
NanoMech's chemical-free, nanostructured coating for cutting tools utilizes an integration of hard phases and lubrication phases to significantly reduce friction and wear. The coating technology has applications in numerous markets and can improve tool life by up to 300 percent, and reduce the amount of waste generated by manufacturers.
The Tibbetts Awards, named after Roland Tibbetts, the father of SBIR, were established in 1998.  Judging for the Tibbett's Awards is based on three areas of criteria: technical innovation, business impact, and broader societal and economic benefit. The Tibbetts Award is national recognition for pivotal work done by a small business.
The EPA SBIR program supports the development of sustainable methods, is in line with the Sustainable and Healthy Communities (SHC) Research Program. EPA's SHC Research Program provides useful science and tools for decision makers at all levels to help communities advance sustainability as well as achieve regulatory compliance. SHC is collaborating with partners to conduct research that will result in science-based knowledge to guide decisions that will better sustain a healthy society and environment in America's communities.  The research is intended for decision-makers at the federal, regional, state, and community levels. 
SBA press release: High-Tech Small Businesses Receive Tibbetts Awards for Innovative and Outstanding Contributions
For more information on Nanomech's EPA SBIR research project: Biomimetic Nanostructured Coating for Dry Machining
More information about the SHC Research Program: EPA Research