U.S. EPA SBIR Award Recipient Receives 2015 Tibbetts Award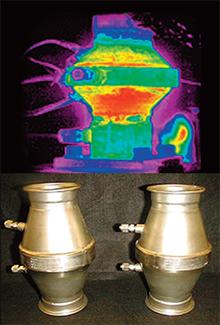 May 2015 - Precision Combustion Inc. (PCI), a U.S. Environmental Protection Agency (EPA) Small Business Innovation Research (SBIR) award recipient in 1990, 1991, 1995, 1999, 2013 and 2014, received the 2015 Tibbetts Award for developing and manufacturing advanced performance catalytic reactors and systems for energy, defense and environmental applications. This award is presented by the Small Business Administration to small businesses and individuals that have exemplified the mission of the SBIR program, and have demonstrated outstanding SBIR leadership.
The Tibbetts Awards, named after Roland Tibbetts, the father of SBIR, were established in 1998. Criteria to receive this prestigious award include technical innovation, business impact and broader society and economic benefit. PCI and 22 other small businesses were presented their award during a White House ceremony on June 15th and again at the June 16th kickoff of the National SBIR/STTR Conference.
Since receiving its first EPA SBIR award, PCI has grown to become a world leader in innovative catalytic system technology, with 35 employees, 80 U.S. patents, multiple licensees and a wide customer base. Additionally, PCI's clean energy technology has advanced American energy efficiency and energy independence while improving environmental impacts and creating American jobs.
The EPA SBIR program supports the development and commercialization of innovative technologies that is in line with the Sustainable and Healthy Communities (SHC) Research Program. EPA's SHC Research Program provides useful science and tools for decision makers at all levels to help communities advance sustainability as well as achieve regulatory compliance. SHC is collaborating with partners to conduct research that will result in science-based knowledge to guide decisions that will better sustain a healthy society and environment in America's communities The research is intended for decision-makers at the federal, regional, state and community levels.
SBA press release: High-Tech Small Businesses to Receive Tibbetts Awards for Innovative and Outstanding Contributions
For more information about Precision Combustion Inc.: Precision Combustion Inc. Exit
For more information on Precision Combustion's EPA SBIR research project: Low-Cost Regenerable Air Filter for Efficient Gaseous Pollutants Removal
More information about EPA's SBIR Program: EPA SBIR Program
More information about EPA Research: EPA Research