Appendix A: Model Program for the State School Environmental Health Guidelines
You may need a PDF reader to view some of the files on this page. See EPA's About PDF page to learn more.
What is a School Environmental Health Program?
A school environmental health program is a holistic, comprehensive, and actionable strategy that integrates preventive measures and addresses environmental health issues by fostering well-maintained school buildings and grounds. Sustainable school environmental health programs promote environments that are conducive to learning and protect the health of building occupants. In addition to improving the school's physical environment and minimizing potential health risks, school environmental health programs help local communities, schools, and school districts make healthy, safe, and cost-effective choices that address each school's environmental health priorities. Some of the benefits to schools and school districts include:
Improvements in children's health;
Decreased rates of absenteeism for children and teachers;
Stronger student academic performance and participation in the classroom;
Greater teacher retention and job satisfaction; and

Cost savings through energy and water conservation and efficiency, and improved facility maintenance.
States are encouraged to utilize their existing laws, regulations, and policies—in conjunction with the information provided in this model—to provide schools with a customized resource to help create healthy school environments for children and staff. Although no single program model must be followed in establishing a school environmental health program, the U.S. Environmental Protection Agency's (EPA) Indoor Air Quality (IAQ) Tools for Schools program framework and technical solutions have been widely adopted by schools and school districts over the past 15 years. In fact, the Centers for Disease Control and Prevention's (CDC) 2006 School Health Policies and Programs Study (4pp, 142K) estimated that more than half of all schools have an indoor air quality program in place and more than 85% base their program on the IAQ Tools for Schools model.
For the tens of thousands of schools familiar with the IAQ Tools for Schools framework and technical solutions, IAQ Tools for Schools is a logical platform from which many school environmental health issues can be tackled. EPA encourages states, schools, and school districts to use the IAQ Tools for Schools framework and the model program that follows to identify actions and resources that might be of use to schools for building or further strengthening their school environmental health programs.
The Framework for Effective School IAQ Management: SIX KEY DRIVERS
The following model program provides guidance for schools and school districts that are beginning to develop, or are strengthening, a school environmental health program, including the key steps for implementing a program and practical actions that schools can take to address a wide range of environmental issues. The model program groups these environmental issues into five broad components:
Practice Effective Cleaning and Maintenance,
Prevent Mold and Moisture,
Reduce Chemical and Environmental Contaminant Hazards,
Ensure Good Ventilation, and
Prevent Pests and Reduce Pesticide Use.
The model program also includes examples of how schools have approached environmental health issues and links to other valuable resources to help schools develop comprehensive school environmental health programs.
School environmental health programs should be dynamic and need to evolve as schools and school districts identify new priorities, set new goals, and balance existing resources. This model program can be modified to meet the changing needs of a school or school district, and should be updated to reflect a school or school district's current priorities, goals, and resources.
The Important Role of State Policy in School Environmental Health Programs
State policy development and implementation plays a critical role in promoting healthy school environments. A number of states have regulations, policies, and guidance that address key environmental health issues in schools, including green cleaning, chemical management, indoor air quality, and integrated pest management. The existing policies, regulations, and guidance can help schools and school districts take the necessary steps to improve environmental conditions in schools by establishing a benchmark or standard to which all schools should or must comply.
This model program is intended to be a resource for states to provide to schools and school districts to help them address environmental health issues. States are encouraged to customize the model program to reflect existing regulations, policies, and guidance that promote school environmental health; emergency management protocols, procedures, and points of contact; and existing resources that can help schools and school districts develop and sustain their own environmental health programs and activities. States are also encouraged to use the model program as a resource for considering new regulations, policies, and guidance that might be helpful in promoting healthy school environments.
Promote Program Success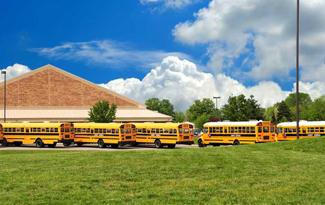 Communicating program success is important for schools and school districts to maintain, and even increase, support for a school environmental health program. Consider using one or more of the following methods to promote program progress and success:
Write a success story for the school newsletter or school newspaper.
Give a presentation at a school board or parent-teacher organization meeting.
Submit a story for print in the community newspaper.
Have a booth at a community event highlighting the program and its accomplishments.
Present an award to school faculty and staff who have contributed to the program's success.
Apply for national and state awards (e.g., U.S. Department of Education Green Ribbon Schools Recognition Award).
---