Advancing Air Quality Measurement Capabilities and Engaging A Kansas Community in Citizen Science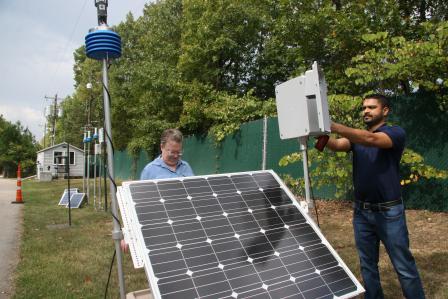 Researchers get air monitors ready for study. Published November 6, 2017
Many residents of southeast Wyandotte County, Kansas, live in the Turner, Argentine and Armourdale neighborhoods, an area that has community and environmental stakeholders interested in learning more about local air pollution from multiple transportation sources. Diesel trucking fleets, two railyards, including a rail maintenance facility, major highways, and light industry are all part of this Kansas City, Kansas, region.
Solar-Powered Air Monitors. Portable and low-cost monitors (P-pods) measure continuous fine particle pollution (PM2.5), black carbon, a component of PM2.5, wind speed and direction, temperature, relative humidity, and barometric pressure.
EPA is working to investigate local air pollution and better understand how factors like weather and transportation activities impact air quality. Their year-long collaboration with residents and other stakeholders is called the Kansas City Transportation and Local-Scale Air Quality Study (KC-TRAQS). Researchers are particularly interested in measuring fine particle pollution known as PM2.5, and black carbon, a component of PM2.5, which can impact lung and heart health, contributing to asthma and other respiratory problems and trigger heart attacks and strokes in people with cardiovascular disease.
The study launched in fall 2017, when EPA researchers set up a variety of measurement equipment, including an electric vehicle retrofitted with monitoring equipment. Sue Kimbrough, Technical Lead for the study, explained how scientists are focused on identifying and measuring the impact of air emissions from local sources in the three neighborhoods.
"One of our main goals for this project is to better understand the extent of air pollution in the community such as along a street, a park or other locations where people live, work and play," she said.
They'll do this by using multiple stationary and mobile measurement instruments and sensors that collect data. These technologies will be able to help other communities with similar transportation air quality research. Measurements will be conducted using:
an instrumented electric vehicle equipped to take high-time resolution (one-second) measurements and allow for increased spatial coverage across the study area;
portable and lower-cost monitors equipped with sensors in six locations for changes in meteorology, like wind direction and temperature, and for continuous PM2.5 readings in the community; and
stationary samplers placed in five locations throughout southeast Wyandotte County.
The stationary samplers will collect particulate matter on filters over a 24-hour period; filters will then be sent to the EPA laboratory for further analysis.
Help from Citizen Scientists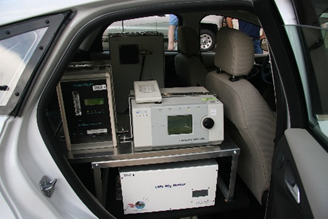 Back Seat Monitoring: The mobile measurement vehicle is retrofitted with sophisticated air monitoring instruments, including from left: an aethalometer, which measures black carbon, aerodynamic particle sizer, which measures pollution size, and from bottom, NO2 (nitrogen dioxide) monitor.
Besides these measurements, EPA is inviting citizen scientists in the communities to take part in the study by using AirMappers. These lunchbox-size monitors developed by EPA enable residents and students to collect local air quality data by carrying or attaching the devices to a bicycle while walking or biking around the study area. AirMappers include rechargeable battery power, a global positioning system, and particle and carbon dioxide sensors. The devices are available for checkout at the Turner Community Library and Argentine South Branch Library.
With the help of citizen scientists in the community, EPA will use this study to raise awareness of air quality issues in the community and to help residents take action to reduce their exposure to air pollutants. The findings will assist researchers in advancing new portable and mobile measurement technologies for use by other communities.
Researchers plan to publish study results in peer-reviewed scientific literature, researchers will post AirMapper data results on the study web page three to four months after the study launch. EPA will also share study results with neighborhood leaders, state and local government officials and air quality planners, the railway company and other stakeholders to support decisions to improve air quality in the community.
KC-TRAQS is funded by EPA's Office of Research and Development. Monitoring and measuring analysis is for research only and is not a health-based assessment and/or is not intended for regulatory purposes.