By Air, Land and Sea: Tackling the Ozone Issue on Lake Michigan's Shores
An EPA air monitor (left of the flag) sits on the mast of the NOAA research vessel.Published June 29, 2017.
Communities near and far from Lake Michigan value its shores for many reasons: the region's Native American heritage, its recreational water activities, opportunities for food production, and economic vitality. Yet the air quality along the Lake's shore remains an environmental challenge. 
Despite controls implemented over the years to lower emissions of air pollutants, Lake Michigan communities near the shoreline still experience elevated ozone levels that exceed federal ozone standards set by the Clean Air Act. Contaminants such as nitrogen oxides and volatile organic compounds interact with sunlight and hot temperature to form ozone.
To help these communities and other states near bodies of water with similar air quality challenges, EPA scientists are collaborating with multiple agencies for the Lake Michigan Ozone Study--a field study aimed at better understanding ozone chemistry and meteorology along the Wisconsin-Illinois Lake Michigan shoreline using a combination of aircraft, ground-based, and ship-based measurements.  
The Lake Michigan Ozone Study is facilitated by the Lake Michigan Air Directors Consortium (LADCO), a state sponsored organization focused on improving air quality. LADCO helped bring together a variety of measurement assets from EPA, the National Oceanic and Atmospheric Administration (NOAA), NASA, and multiple universities and member state air quality management agencies.
Working with partners, EPA researchers collected measurements over the land and Lake to help understand how lake breeze circulations and atmospheric dynamics may transport ozone and ozone precursors to the Lake Michigan shoreline.
"Elevated levels of ozone in the air can make breathing difficult or painful, aggravating lung diseases such as asthma, emphysema and chronic bronchitis," says Jim Szykman, an EPA Senior Research Engineer. "If we can identify the most problematic ozone precursors causing the elevated ozone, and better understand where the ozone is formed that impacts the lake shore, state agencies can more effectively decide how to manage ozone levels."
EPA scientists are continuing their research with the data collected from May through June 2017 using measurement instruments located at a monitoring station onboard a NOAA research ship. They measured ozone and ozone precursors, such as nitrogen dioxide and formaldehyde, and key weather measurements such as wind and temperature at the surface and aloft.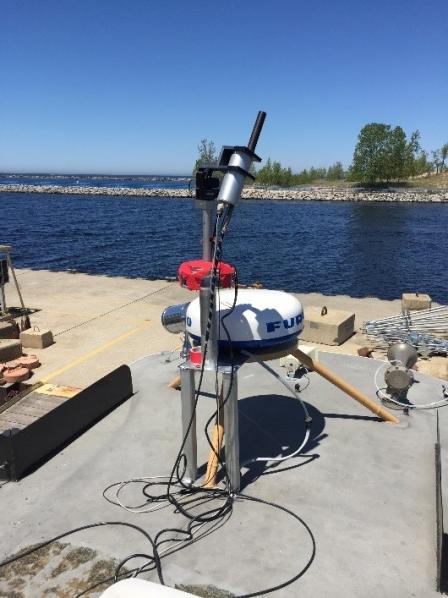 EPA researchers used this ground-based air monitor while collecting data.Currently, EPA is working with its partners to compile and analyze the data using modeling studies, and share it with states that can use the findings to develop State Implementation Plans for meeting air quality standards. These plans are critical for states to protect air quality to reduce impacts on public health.
"The study results on the formation and transport of air pollution will inform similar areas with ozone problems where land and water meet," says Szykman.
EPA researchers are on the front lines at Lake Michigan and elsewhere to help states address highly complex air pollution problems. They are providing their expertise in the development of Next Generation measurement devices such as those used in the study, and improving modeling with the new data to help states understand how best to tackle remaining air quality issues that are impacting public health. Visit the following links to learn more: