From Brownfield to Breadbasket: Health Impact Assessments Help Communities Make Healthy Decisions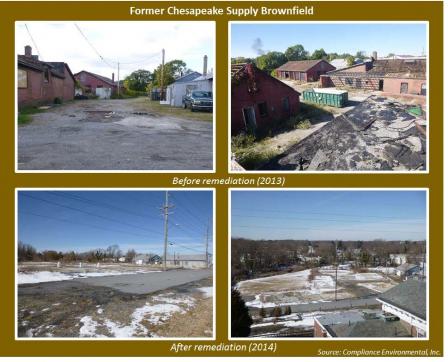 Posted September 10, 2018
The Former Chesapeake Supply is a vacant and once contaminated property, or brownfield, located in downtown Dover, Delaware. As part of a revitalization effort in the area, local and state officials are contemplating what to do with the property now that it is safe to use again. Because of an interest in increasing food access in and around Dover, they are considering using the site for food production, specifically aquaponics.  Aquaponics is a type of farming that grows fish and plants together in an integrated system. EPA staff agreed to help Dover and Delaware officials make decisions about the former brownfield by conducting a rapid Health Impact Assessment (HIA).
An HIA is an approach for identifying how a proposed policy or project might impact the health of a community and how those impacts might affect citizens. It systematically applies scientific data, analytical methods, and input from stakeholders to develop recommendations for how to maximize positive health impacts and minimize negative health impacts. The goal is to help inform decision makers, members of the affected community, and stakeholders about any health-related issues that could result from implementing, or not implementing, a given plan. A rapid HIA is a shortened form of the approach that uses a smaller amount of primary research and stakeholder engagement. 
EPA used a rapid HIA to help decision-makers explore ways a brownfield revitalization project might yield broader community benefits and meet other community goals. The Dover rapid HIA evaluated how the proposed project would influence five factors that affect health: 
Access to fresh and affordable food.
Employment opportunities.
Brownfield and urban revitalization.
Crime and perceived safety. 
Household and community economics. 
The HIA team evaluated how the proposed project might affect these health factors by examining the conditions in and around the Dover brownfield site. For example, the team looked at statistics such as crime rates in the area and considered factors such as the locations of local grocery stores.
The team also reviewed literature to qualitatively evaluate how the five factors might be affected if the proposed project was executed. Through this approach, the team summarized potential health benefits of using brownfield sites to address food access issues in urban environments. They also demonstrated that brownfield sites could be suitable for agriculture with the use of alternative farming methods, such as hydroponics and aquaponics. 
The HIA team presented multiple recommendations to the city and other decision-makers which address each of the five health factors evaluated. Examples of these recommendations, along with the health factors they attempt to address include the following:
Food Access - Establish a varied produce/fish selection for community nutritional needs and maintain interest of residents.
Employment - Provide employment opportunity to clients of the nearby Interfaith Mission for Housing; consider a formal partnership and job training.
Brownfield and Urban Revitalization  Include other brownfields for an area-wide approach to revitalization. For example, the target site could be best used for food production, while other sites may be better located for distribution.
Crime - Increase street lighting along the proposed project site and install sufficient lighting on the site.
Household and Community Economics - Consider alternative models of food distribution, such as a Community Shared Agriculture (CSA) program, which would reduce costs to residents and assist local farmers with production issues.
These recommendations might also be applicable to future projects in the Dover area and other urban environments across the United States. Now that these recommendations have been given, the community can make decisions on addressing them.
Learn more: