DIY Air Sensor Now Available for Use by Educators and Citizen Scientists
Published September 14, 2020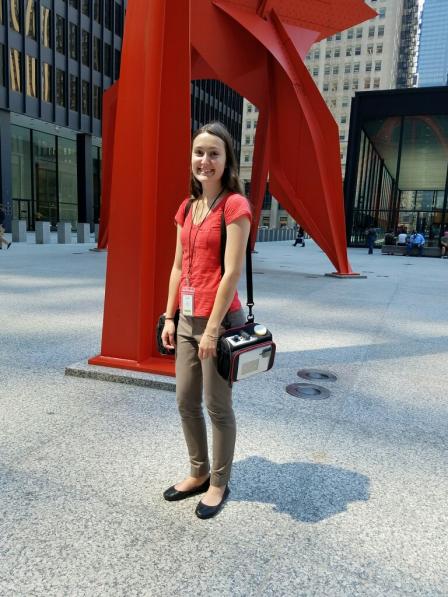 The AirMapper being used in Chicago.Interested in a DIY project that will help you learn about air quality? Researchers at EPA have published instructions for building a portable, battery-powered air sensor, called the AirMapper, which can be used for educational outreach activities. The device is designed to measure two air pollutants, particulate matter and carbon dioxide, as well as other environmental conditions. The AirMapper can also take measurements over a designated route such as a neighborhood path while walking or riding a bicycle.    
"Building a sensor can help students and others learn about how air sensors operate and give them experience in being a citizen scientist by collecting scientific data," says Sue Kimbrough, a retired EPA engineer who worked with colleagues to develop the AirMapper. "The DIY project can provide educational opportunities to understand the concepts of engineering, air sensor technology, and atmospheric science."
The AirMapper was developed in 2016 as a complement to the Village Green Station installed in Chicago, Illinois, at the same time. EPA's regional office in Chicago worked with the Jane Addams Elementary School in the city and provided AirMappers to teachers and students for use in collecting air quality data in their neighborhood. They also used EPA's data mapping tool called RETIGO and kept a science logbook of results. As part of the project, lesson plans integrating the AirMapper were developed for third to eighth grade classrooms as a free resource for educators to learn about air quality.
More recently, EPA made AirMappers available to community members in Kansas City, Kansas, during the KC-TRAQS project – a large air monitoring study conducted from 2017 to 2018 to gain information on spatial and temporal variability of local air quality from nearby railyard operations, traffic, and other sources of air pollution. Local schools and community groups in the impacted neighborhoods collected air quality measurements with the AirMappers.
Information on the AirMapper and instructions for how to build and operate the device are available in the report AirMapper Design, Operation and Maintenance. The AirMapper measures particulate matter, a common air pollutant emitted from motor vehicles, industrial operations, wildfires and other sources, and carbon dioxide. The device can take measurements in real time (10 second intervals). Other sensors included in the AirMapper record temperature, humidity, and outdoor noise levels. For the mapping component of the system, a GPS sensor is included in the design.
The primary purpose of the AirMapper is for educational outreach, air quality awareness, and citizen science activities.
To learn more about EPA's other air sensor research, activities, and educational resources, visit the Air Sensor Toolbox.
Learn More