A DIY Dream: Build Your Own Village Green Air Monitoring Station
Published March 26, 2018
The Village Green Project is a community-based research program for residents and citizen scientists interested in learning about local air quality. At the heart of the project is the Village Green station--an innovative air quality measurement system, featuring sensors for ozone and fine particle pollution and weather instruments, powered by the sun and wind, and built into a park bench. The data is streamed live on the web with minute by minute updates and can be accessed online or with your phone.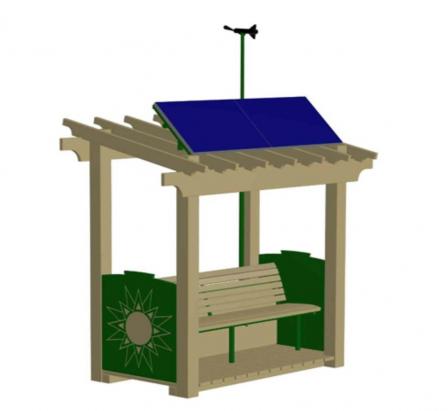 An illustration of the Village Green bench structure.The Village Green station's creative design has attracted a lot of attention from civic and community organizations, educational institutions, and citizen scientists interested in bringing a station to their own community. There are currently eight Village Green stations in cities across the country. To support the hosts of these stations and anyone interested in establishing their own Village Green-like station, two new resources have been developed: an instructional manual and a complementary training video that explains all aspects of the stations' build, operation, and maintenance procedures. 
The video and manual explain and demonstrate how to build and operate a Village Green station. They provide an overview of the construction considerations, the system, equipment operation, installation, proper sensor and equipment maintenance, and systems communication and data delivery considerations. The manual and guide also provide insight into the evolution of the Village Green station design - from the initial prototype installed in 2013 outside the Durham County South Regional Library to the specifications of the bench installed in 2017 outside the John P. McGovern Museum of Health and Medical Science (The Health Museum) in Houston, TX.