From East to West, EnviroAtlas Builds Bridges by Making Data Accessible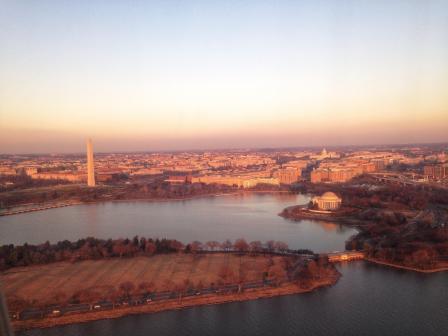 Washington, D.C., is one of three new communities added to EnviroAtlas.Published July 22, 2020
A community's economic sustainability and quality of life depends on many factors, including clean air, clean water, green space, and other natural amenities. Often referred to as "ecosystem services," natural elements and functions provide many societal benefits but aren't always fully understood or considered in local decision-making. EPA's EnviroAtlas tool aims to change that by using maps and data to help communities understand the relationships between nature and human health, well-being and the economy.
EnviroAtlas is an interactive and free web-based tool that combines maps, analysis tools, fact sheets, and downloadable data to help inform state and local policy and planning decisions. Guides, training materials, and educational modules are provided to support EnviroAtlas users of all types. Besides a wealth of nationwide data, EnviroAtlas provides fine-scale maps for featured communities that can show information accurate down to the census block group and 1-meter resolution. These geospatial resources help make accurate neighborhood-tailored planning a reality.
EnviroAtlas recently posted high-resolution datasets for three new communities: Los Angeles, California; St. Louis, Missouri; and Washington, D.C. These additions bring the total to 30 EnviroAtlas communities, covering over 1,400 U.S. cities and towns and 30 percent of the U.S. population (more than 65 million people). EnviroAtlas communities range in population from 1,500 to 9.2 million people and were selected based on environmental and human health data availability, population size, geography, and EPA regional interest.
Overall, EnviroAtlas provides more than 400 ecosystem services maps as well as supplemental environmental and socioeconomic data layers. It includes a fact sheet and technical metadata for each data layer. EnviroAtlas also features an "Eco-Health Relationship Browser," using peer-reviewed science to describe how the ecosystem services provided by green infrastructure may provide cost-effective public health benefits. The Eco-Health Relationship Browser, combined with community maps, can provide powerful and evidence-based leverage to help stakeholders and public officials improve their communities.
Adding the new communities into the EnviroAtlas interactive mapping application is only the first step to making these data available to the communities that can use them. Utilizing relationships built with EPA staff and community representatives, the EnviroAtlas team tackles the additional challenge of creating awareness among potential users who may not know about the existence of new geospatial data relevant to their neighborhoods. To do this, the EnviroAtlas team is providing webinars and introductory training on the new data, demonstrating how to access data in the interactive map and download data for additional community use and analysis.
The EnviroAtlas team has been working with the three new communities to share how they can use the data. EPA staff in Los Angeles introduced EnviroAtlas data to participatory research initiatives like the California State University Health Equity Research & Education Center. Additional collaborations have taken root with staff from the City of LA and other area municipalities and universities.
In St. Louis, EPA has shared the EnviroAtlas data with the East-West Gateway Council of Governments, the St. Louis Metropolitan Sewer District, Missouri Department of Natural Resources, EPA Region 7, the City of St. Louis, and multiple area universities. There was significant interest and follow up on the potential application of EnviroAtlas data to local and regional projects, including BiomeSTL,Exit OneSTL,Exit and a project exploring urban bird habitat trends in tandem with data from the popular City Nature Challenge.Exit EPA will be working with the DC region later this summer.
The goal of the EnviroAtlas team is user empowerment. The EnviroAtlas team collects user feedback to understand their needs and plans for using EnviroAtlas, and how the team can be of ongoing assistance. The rollouts and training on the new community datasets, including responsiveness to community needs and individual requests, are testament to that commitment to engage users in the most meaningful and impactful ways.
Check out EnviroAtlas and get engaged today!
Learn more:
Science Matters Article on EnviroAtlas communities
Questions for the EnviroAtlas team or interest in upcoming new Office Hours can be directed to enviroatlas@epa.gov.