EnviroAtlas in the Classroom: New K-16 Lesson Plans that Empower Tomorrow's Decision-Makers
How many of you know a family member with diabetes?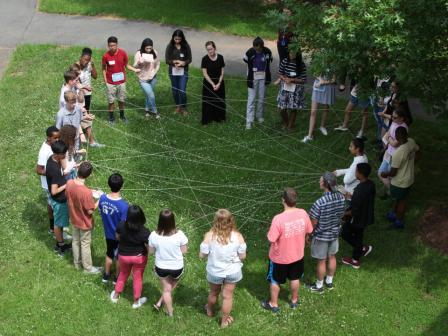 Students participate in a lesson that explores connections between ecosystems and human health.A few hands went up among the Durham, North Carolina science class.
What about asthma?
More hands.
Cardiovascular disease? ADHD? High Blood Pressure? Obesity? Anxiety?
"It didn't take long for all 30 eighth graders in that classroom to raise their hands," Jenna Hartley recalled.
Hartley, a former high school science teacher and now an Association of Schools and Programs of Public Health (ASPPH) Environmental Health Fellow hosted by EPA's EnviroAtlas team, has learned first-hand that many students are familiar with common chronic illnesses. But, in her experience, far fewer understand how the surrounding environment is linked to these conditions.
EPA's new suite of educational materials aims to address that knowledge gap with classroom-ready lessons that teach students about the environment's effects on their daily lives, including their health and well-being. Published this spring, the education materials leverage the interactive, web-based tool EnviroAtlas. They include lesson plans and resources to engage kindergarten through undergraduate (K-16) students in interactive learning, addressing concepts like ecosystem services, watershed geography and management, the water cycle, air quality, urban planning, biodiversity, geospatial science, and decision-making.
"We want these materials to empower students to be highly-informed decision-makers of tomorrow, and to know where they can find data that enable them to accomplish that," Hartley said.
The three lesson plans available now encompass material for K-16 classrooms. The K-6 lesson "Exploring Your Watershed," which is offered in English and Spanish, involves place-based learning and introduces mapping, with the students as outdoor navigators. Grades 4-12 look at the links between ecosystem services and human health outcomes in the "Connecting Ecosystems and Human Health" lesson, while Grades 9 through undergraduate practice community decision-making using EnviroAtlas maps in the "Building a Greenway: Case Study."
Each of the three lessons includes hands-on, interactive technology, and outdoor learning portions to maximize student engagement, while staying on track with Next Generation Science Standards (NGSS) and individual state science standards which, Hartley acknowledges, were considered first and foremost. "We want our educational materials to be fun, relevant and engaging, but most importantly, we want them to be useful for teachers," she said. "The biggest piece of knowledge I hope students will take away from these lessons is that humans are intrinsically related to the environment—not separate."
To learn more about the EnviroAtlas K-16 educational materials and download them for your classroom, visit:  https://19january2021snapshot.epa.gov/enviroatlas/enviroatlas-educational-materials.
Find the Spanish translation of the K-6 lesson "Exploring Your Watershed" at: https://19january2021snapshot.epa.gov/espanol/materiales-educativos-sobre-el-modulo-enviroatlas.