EPA Develops National Picture of Underground Storage Tank Facilities and Leaking Underground Storage Tank Sites
Published November 10, 2020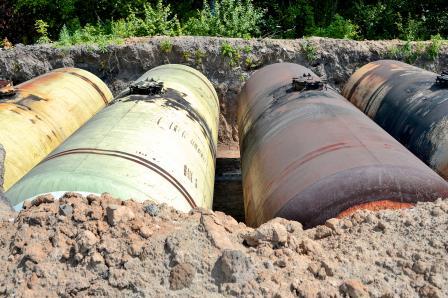 Underground storage tanks. More than 500,000 underground storage tanks (USTs) can be found in communities across the country, storing petroleum and other hazardous substances. Leaks or spills of these substances can contaminate the surrounding soil and groundwater, which can compromise public and private drinking water supplies. These toxic chemical releases can pose serious health, economic, and environmental risks to nearby residents.
Leaking USTs (LUSTs) can occur over time due to corrosion, cracks, defective piping, improper installation and spills during refilling and maintenance activities. In addition, USTs may be vulnerable to damage during a natural disaster or extreme weather event, such as floods, hurricanes, wildfires, and earthquakes. These events can also increase the extent of contamination.
Because each individual state is responsible for collecting and cataloging their UST/LUST data, this valuable information was not readily accessible on a national scale. EPA researchers wanted to create a national scale tool for states to better assess the infrastructure, prioritize clean-ups and assess potential vulnerabilities to human health and the environment. 
EPA researchers, in collaboration with the Office of Underground Storage Tanks and the Association of State and Territorial Solid Waste Management Officials began collecting publicly available information in all 50 states and the District of Columbia. EPA scientists Alex Hall and Fran Kremer used the data to develop the UST Finder, a  web mapping tool and database that provides users with the first-ever comprehensive national picture of the physical attributes and locations of active and closed USTs, UST facilities, and LUST sites. Providing locations of LUST/UST facilities for many of the states that didn't have geolocations was also a major contribution in this effort.  
The database compiles state-sourced active and historic UST facility and leaking UST site data into a national map that describes the attributes and locations of UST facilities and leaking UST sites.  Overlaying the facility and site data with surface and groundwater protection information helps identify where populations, public drinking water sources, and private domestic wells are located, in relation to UST facilities and leaking UST sites.
"We standardized approximately 150 different databases in order to create a national snapshot of all LUSTs, USTs, and UST facilities as of 2019," said Hall.  "In addition to determining where tanks are located nationwide, we collected specific information about types of fuels stored, what fuels were leaked, age of tanks, when were tanks removed, and some of the physical characteristics of tanks. By the end of the collection process, we had nationally cataloged 2.2 million active and historic tanks, approximately 800,00 UST facilities,  more than 500,000 historical leak underground storage tanks  and approximately 64,000 existing leaking underground storage tanks that are currently being monitored and/or remediated by state authorities."
The tool is already making an impact. Using UST Finder, EPA scientists were able assist EPA's Region 6  following the impacts of Hurricane Laura in August 2020. The tool provided the Region with the location and number of USTs, number of impacted groundwater protection areas in the path of the hurricane; and a method for triaging risks.
"I had always thought this was a dream we couldn't achieve," said Barry Breen, Principal Deputy Assistant Administrator of EPA's Office of Land and Emergency Management, referring to having this national database.
UST Finder is a powerful tool developed to support the UST community in the important work they do. It can help regulators, owners, and operators take action to protect UST facilities from extreme weather events; rapidly identify facilities for emergency response personnel to control releases and protect the public; rapidly identify LUST site cleanups impacted by a weather event or disaster; and assist in restarting cleanup efforts.
Other groups that can benefit from UST Finder include emergency management personnel, city and urban planners, state water programs, and local water utilities.
Users can access UST Finder from their mobile phone, tablet, or computer to navigate to a neighborhood or community anywhere in the country and get information on a particular tank, facility, or LUST.  EPA researchers also developed a user's manual to provide additional information on the numerous features and functions of the database.
EPA will continue work with states to incorporate updates about UST facility and LUST site data. UST Finder will soon provide access to data in real time to help decision makers, responders and other stakeholders navigate and track information in a timely manner; and allow for more efficient decisions and actions.
Learn More
Underground Storage Tanks (USTs)
Underground Storage Tank (UST) States and Territories Contacts
For questions about UST Finder, contact Alexander Hall at USTFinder@epa.gov.