EPA Educational Tool Inspires MIT Team to Develop DIY Air Sensor Kit for Hawai'i Educators
Published June 8, 2020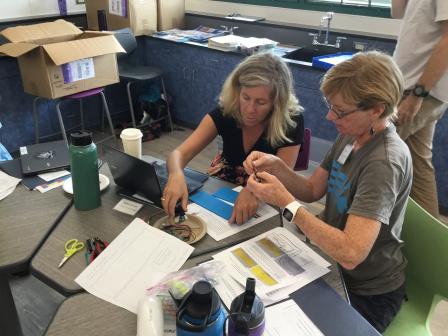 At a workshop in Waimea, Hawaii, high school teachers Heather O'Connell (left) and Una Burns (right) learn how to assemble the particle sensors with the MIT team's instructions.Educators at Massachusetts Institute of Technology (MIT) drew on an EPA educational tool to create a new version of a particle meter to help teachers in Hawai'i teach students about air quality and engineering. The MIT sensor design encourages hands-on learning at a time when more U.S. schools are embracing "makerspaces," areas where students can explore and create using materials from art supplies to electronics.
Dr. Kathleen Vandiver, the outreach director at MIT's Center for Environmental Health Sciences, said she and the Edgerton Center team drew inspiration for an engineering project from EPA's "Build your own particle sensor" activity, designed to teach middle school students about air quality. In the MIT activity, participants in teams of two assemble the electrical components and upload a simple computer code to build a hand-held particulate matter (PM) meter. The exercise familiarizes teachers and students with how sensors can be built to detect particles in the air and produce signals that can be read.        
Dr. Rachelle Duvall, an EPA researcher and active participant in EPA's STEM outreach program, said of the project, "It is exciting to see how educational resources developed by EPA are creatively used and adapted for other projects. This definitely shows how science matters!"
The sensor kit and its assembly instructions grew out of a larger, EPA-funded STAR grant project led by MIT and local community partner The Kohala Center, an independent community-based research center on Hawai'i's Big Island, to monitor emissions from Hawai'i's Kīlauea volcano. The MIT project team deployed a network of research air sensors on school grounds and health clinics across the Big Island to provide communities with their own local and real-time measurements for sulfur dioxide and particulate matter pollution, which combine to form volcanic smog, or "vog." 
A fully assembled particle sensor. The handheld device introduces students to data collection by allowing them to measure particulates in the air.Volcanic smog has negative impacts on human health, such as the potential to aggravate pre-existing respiratory ailments. It can also harm plants and agriculture. When the Kīlauea volcano erupted in May 2018, the Hawai'i Vog Sensor Network Team at MIT rushed to deploy additional sensors onto the network to provide real-time local health data to the communities living nearby. In August 2018, when the Kīlauea lava flow slowed and the students were back in school, the recorded data from among the different schools' air sensor nodes was shared across the island.  
A full day teacher workshop in September 2018 was one of these data sharing events. To acquaint teachers with air sensor technology, Vandiver showed them how to assemble the simple handheld air sensors. The workshop not only emphasized teaching STEM concepts, but also connected the lessons to real-world, local environmental issues of vog and Hawaiian cultural values led by the Kohala Center's staff.
Vandiver also shared lessons she designed to teach basic chemistry using LEGO™ bricks to represent atoms. The lesson plans are available for download and all the EPA's criteria air pollutants can be easily modeled, as well as many key concepts needed to explain climate change, such as the chemical processes in combustion, ocean acidification, and photosynthesis.
Following the success of the workshop, MIT donated six of the MIT Edgerton Center's Molecule Sets for classrooms to the Kohala Center to loan out to trained teachers on the island, which Vandiver said are "very popular" with teachers and students. Vandiver points out, "The MIT Edgerton Center Molecule Set teaches abstract concepts in concrete ways©." 
The instructions for building the MIT Edgerton Center's particle sensor kits are hereExit and can be reposted with attribution. Find the Creative Commons license hereExit.
Learn more
Edgerton Center Molecule SetExit
EPA's "Build your own particle sensor"Exit
The Hawai'i Island Volcanic Smog Sensor Network (HI-Vog): Tracking air quality and community engagement near a major emissions hotspot
What health hazards are posed by vog?Exit
Does vog impact plants and animals?Exit
Additional Resources
Vandiver K.M. (2019) Tactile Approaches to Help Learners Visualize Key Processes in Environmental Health SciencesExit. In: Finn S., O'Fallon L. (eds) Environmental Health Literacy. Springer Cham.