EPA is Moving Towards the Future of Chemical Assessments with New Approach Methods
Published March 31, 2020
In 2019, EPA Administrator Andrew Wheeler issued a directive that prioritizes efforts to reduce the use of animal testing, with the goal of eliminating all mammal study requests and funding by 2035. EPA scientists were already hard at work using cutting edge New Approach Methods (NAMs) to reduce the use of animals and revolutionize chemical testing.
NAMs refer to any technologies, methodologies, approaches, or combinations thereof that can be used to provide information on chemical hazard and potential human exposure that can avoid or significantly reduce the use of testing on animals.
Driving this effort is the Toxic Substances Control Act (TSCA), which requires EPA to reduce its reliance on animal testing. In 2018, EPA released a strategic plan outlining how it will reduce testing on vertebrate animals through the use of NAMs. EPA already uses some of these approaches to assess chemicals evaluated under TSCA for further testing, and various NAMs are part of the initial EPA proposal to identify candidates for prioritizing existing chemicals under TSCA Section 6.
EPA is also leveraging these NAMs in its Endocrine Disruptor Screening Program to develop a set of non-animal methods that can serve as an alternative to the normal first tier of screening. Using these new methods, EPA fulfills its statutory duty while more effectively screening pesticides and other substances to predict whether they could cause adverse effects on the endocrine system and possibly require further testing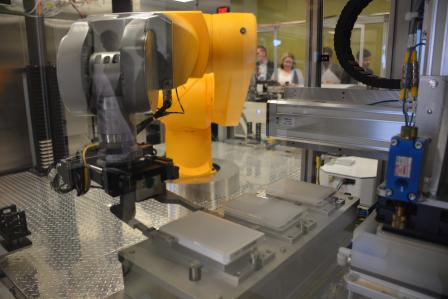 This robotic screening arm allows for rapid, or high-throughput, chemical screening.To help advance the science around NAMs, EPA is collaborating with regulatory agencies across the world through the Accelerating the Pace of Chemical Risk Assessment (APCRA) consortium, a government-to-government initiative aiming to advance the application and acceptance of NAMs in regulatory science and decision making. EPA scientists are leading multiple APCRA case studies examining key questions about how these methods can be used in a regulatory context.
In the US, EPA scientists are collaborating with other federal governmental agencies through the Toxicology Testing in the 21st Century (Tox21) program. Using a robotic screening arm that allows for rapid, or high-throughput, chemical screening, researchers at  EPA, NIH, including the National Center for Advancing Translational Sciences and the National Toxicology Program at the National Institute of Environmental Health Sciences, and the Food and Drug Administration are testing and analyzing the 10,000 environmental chemicals that were selected for their potential to disrupt important biological pathways.
Another way EPA is leveraging high-throughput toxicity testing is through the Toxicity Forecaster (ToxCast) program. ToxCast generates data and predictive models on thousands of chemicals of interest to the EPA, this data is then used to rank and prioritize chemicals for further testing.
ToxCast data, along with a wealth of other information including chemistry, toxicity and exposure information for over 875,000 chemicals are publicly available in the CompTox Chemicals Dashboard. The dashboard also contains models that can be used to prioritize chemicals for further testing and reduce the use of animals in chemical safety testing. Data in the dashboard is compiled from sources including EPA's computational toxicology research databases, and public domain databases such as the National Center for Biotechnology Information's PubChem database and EPA's ECOTox Knowledgebase. 
EPA researchers are leaders in this field of science and are helping to chart a new future for chemical testing. Using New Approach Methods, the agency is committed to drastically reducing the use of animal testing while still fulfilling its mission to protect human health and the environment.
Learn more: