EPA Researchers are Working to Determine the Best Ways to Clean Up Fentanyl Contaminated Surfaces
Published September 14, 2020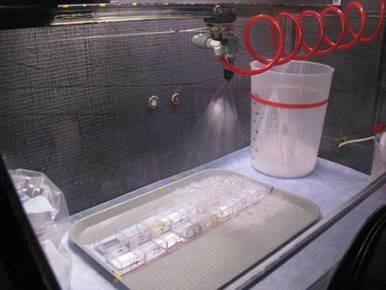 EPA researchers set up a spray application to test fentanyl decontamination approaches.Fentanyl is a synthetic opioid pain reliever. Because a small amount of fentanyl can be deadly, emergency responders and hazmat teams are concerned about their potential exposure while responding to incidents at mixing houses, pill factories, or in makeshift laboratories found in apartments, hotels, houses, garages, and storage facilities. They are also concerned with exposures from remnants of laboratories that have been dumped illegally and possible fentanyl releases in correctional facilities.
EPA developed a fentanyl fact sheet to support EPA on-scene coordinators' providing assistance to local, state, tribal, and county hazmat partners in remediation of opioid contamination. The fact sheet provides information regarding the characteristics of fentanyl and fentanyl analogs (such as carfentanil, sufentanil, and alfentanil) and potential exposure pathways, physical properties, appropriate personal protective equipment (PPE), field detection, sampling, and analysis information.
While developing the fact sheet, EPA researchers and emergency responders identified a number of deficiencies in apabilities that are needed for opioid contamination cleanup. For example, according to EPA researcher Lukas Oudejans, current fentanyl cleanup approaches primarily focus on the collection and physical removal of fentanyl powder from surfaces; however, chemical approaches to degradation of fentanyl to reduce its toxicity have not been explored. The latter approach would likely result in significantly less fentanyl remaining on the surface after treatment, and the additional benefit of not creating a waste stream containing fentanyl, making it less harmful to first responders.
EPA researchers tested multiple off-the-shelf, easy-to-access products for their ability to decontaminate fentanyl on common materials. The solutions contained active ingredients such as peracetic acid, hydrogen peroxide, percarbonate, or hypochlorite that are commonly found in many off-the-shelf products. Following a spray application of these decontamination solutions and a one-hour contact time, the peracetic acid, hydrogen peroxide, and hypochlorite containing solution performed the best to cleanup fentanyl contaminated surfaces at the bench scale. Researchers are now working to scale up their project to address larger scale decontamination application to confirm these initial small-scale results. They are also conducting research to address more difficult to decontaminate materials, such as porous materials, and methods to support more complex contamination scenarios that may benefit from fumigation methods.
Since the fact sheet was developed, EPA researchers are also continuing to evaluate wipe sampling and analytical methods for environmental sampling of fentanyl. Preliminary data from this research show that the type of wipe wetting solvents affects recovery results. Different wipe materials, such as cotton balls, small cotton gauze squares, or pre-wetted wipes, are often used during clean-up efforts at a response site because there is no consensus for a standard wipe material, and these are all easily available. Some wipe materials can produce comparable results by using composite sampling (multiple wipes on the same surface that are analyzed as a single sample) and appropriate wetting solvents.  Future research will look at decontaminating different types of surfaces.
EPA researchers are working closely with EPA responders to ensure that federal, state, tribal, and local responders and Hazmat teams are prepared with the best science to respond to incidents that involve synthetic opioids, including fentanyl.
Learn More