EPA Researchers Design Virtual Reality Software to Prepare Responders for Sampling in A Hazardous Environment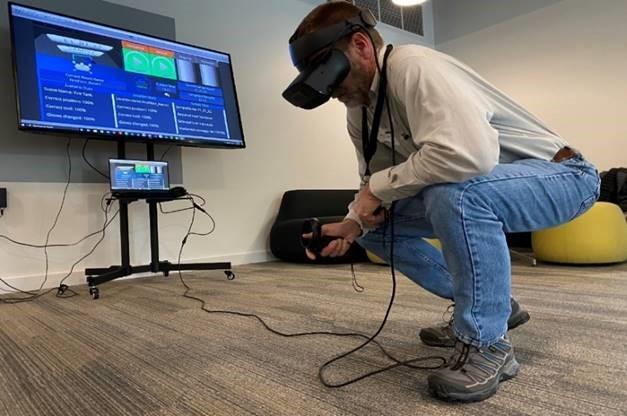 EPA researcher Leroy Mickelsen checks out the VR training tool.Published September 28, 2020
In the case of a wide area contamination event, responders need to be prepared to properly collect samples of the contaminating agent and conduct decontamination to protect the surrounding community and the environment.
Responders typically prepare for such events by learning sampling and decontamination protocols either in a classroom setting as part of their routine training or in a condensed training provided prior to conducting sampling in a hazardous environment. Both methods typically involve instruction and a demonstration by the instructor.
"Sometimes for these incidents, on-site training simply isn't enough," said EPA researcher, Tim Boe. "People really learn best by doing. You need to have already done the sampling technique yourself to do it properly. If you don't take the sample right, you could get an inconclusive result which could hamper cleanup efforts."
Hands-on learning usually takes place during infrequent full-scale disaster exercises, which can be expensive, time consuming, and difficult to organize. EPA researchers noticed the need to improve responders' access to effective training.
So how do you provide the level of sampling experience you would get at a full-scale exercise without spending the same amount of time and money? EPA researchers are working with the North Carolina Department of Public Safety and the City of Raleigh Fire Department to develop an alternative training solution for responders. They developed a virtual reality-based training tool, that allows responders to move through a full-scale environment when real-time training is not ideal. This tool simulates the more restrictive challenges that trainees may face in a real-life disaster.
The research team identified two primary goals: teaching proper sampling techniques in a hands-on environment and providing situational awareness for emergency responders entering unfamiliar areas. To achieve these goals, the EPA team developed a functional prototype including training software and a full-scale 3D model of the Raleigh Fire Department training facility. The software was developed to support 3D models displayed in a customized gaming engine. In addition to providing an interactive experience, the researchers incorporated headsets and handheld wands to allow for detailed motion tracking and training assessment.
"In our tool, you can walk up to a wall, place your sampling template (which is a defined area you intend to sample), select the appropriate sampling method, and begin taking the sample," said Boe. "You can experience a real-word environment and understand the processes and dexterity necessary to collect biological surface samples."
While first responders are using the virtual reality tool, instructors can see what the responders are doing and how well they are doing it which allows instructors to offer feedback in real time.  Currently, the tool is being tested by the North Carolina Department of Public Safety and the City of Raleigh Fire Department.
"We got involved on a local level. We wanted to make sure this was a tool that could work not just at the federal level, but also at region, state, tribal, and local level," explained Boe.
The team plans to evaluate the impacts of the VR training approach versus traditional training methods. Two groups will participate in a sampling exercise, one group receives traditional on-site training and one receives training via the VR tool. "There are a lot of ways we could use this tool," said Boe. The team plans to expand the tool by adding remote mapping capability via robots for outdoor and indoor environments to develop site-specific 3-D models. This addition facilitates development of sampling plans that accurately reflect real-world environments. This addition also provides a cost-effective training simulator capable of generating life-like visuals to produce a "perfect practice" environment for improving training effectiveness and enhancing situation awareness prior to entering the contaminated environment.