EPA Researchers Develop Strategies and Methods to Help Predict Harmful Algal Blooms in Kansas
Published July 16, 2018; Updated July 1, 2019
Harmful algal blooms are a significant concern for many communities across the United States. Harmful algal blooms produce cyanotoxins, toxins produced by cyanobacteria, which can contaminate water and make people and animals sick. They also have impacts on tourism, the seafood industry, and recreational activities, such as boating and swimming. These blooms occur when cyanobacteria grow out of control in fresh and marine waters, often because of excess phosphorus and nitrogen from stormwater runoff and other sources such as fertilizers entering the water. Runoff also erodes soil that can end up in waterways, contributing to more sediment in lakes.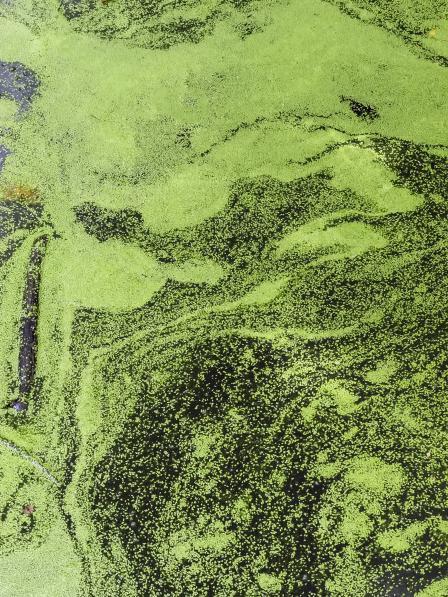 The state of Kansas has identified harmful algal blooms as a priority research area because many of the lakes and waterways in Kansas are recreational and drinking water sources for people living in the state. A team of researchers from EPA, Kansas Department of Health and Environment, Kansas Department of Wildlife and Parks, the United State Geological Survey, University of Kansas, U.S. Army Corps of Engineers, Kansas State University, and other partners, are addressing these blooms in lakes and rivers across the state. This partnership is focused primarily on developing monitoring tools for predicting harmful algal bloom events, as well as understanding how toxic blooms form to minimize future blooms.
At Milford Lake—which discharges into the Kansas River, a drinking water source for more than 800,000 people—researchers are looking at ways to monitor, prevent, and predict harmful algal blooms. Current methods that are used have been unable to forecast the emergence of potentially harmful toxins producing algal blooms in the lake.
EPA researchers are specifically looking at new molecular-based technologies like qPCR assays, molecular tests that can quickly detect toxic cyanobacteria in water samples. In addition, the PhyloChip technology, developed at the Lawrence Berkeley National Laboratories to identify multiple bacterial and archaeal organisms from complex microbial samples, is also being tested at Milford Lake as a potential rapid, reliable, and cheaper option to characterize bacterial composition of various samples from watersheds.
According to EPA's Dr. Amy Shields, "Our goal is to support states and tribes by providing a comprehensive scientific assessment of the development of harmful algal blooms in our region."
The research team is still analyzing data, but they have successfully developed new assays that specifically identified toxins producing cyanobacteria. These assays are currently in the validation stage. The researchers anticipate that combining new technologies with various characteristics of water, such as nutrients, temperature or viscosity, and seasonal and meteorological data will enable them to detect toxin-producing cyanobacteria species more quickly. They will also be able to understand how blooms form, the impact of land use on bloom formation, and when blooms are more likely to produce harmful algal toxins.
To continue this work in 2019 and 2020, EPA is deploying new monitoring technology including an in situ nutrient analyzer, a platform for profiling pigments and water quality parameters, and SPATT (solid phase adsorption toxin testing) in Milford Reservoir.  The new technology, in combination with additional sample collection and laboratory analysis, will add to the data from the previous study and aid in characterizing harmful algal blooms on the lake.
Learn More: