EPA Researchers Evaluate Multiple Sampling Protocols for Detection of Bacillus Anthracis in an Urban Area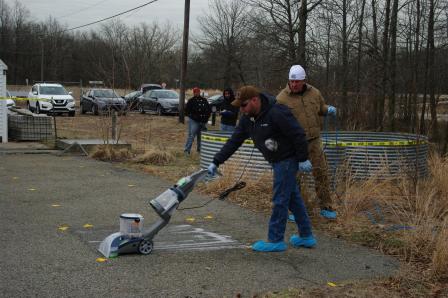 EPA researchers use wet vacuum samplers to assess results of outdoor sample collection methods over time and for different surfaces.Published September 14, 2020
A hazardous material, including a chemical or biological agent, released into the environment can have tremendous impacts on human and aquatic health long after the event. Bacillus anthracis, the causative agent for anthrax, is a naturall occurring, dangerous pathogen to humans and has a history as a bioterrorism agent. Bacillus spores are particularly challenging to clean up as they can persist for decades in the environment and are highly resistant to chemical and physical inactivation.
Environmental sampling is used to determine what areas are contaminated following an incident and to determine what areas are safe for reentry and reoccupancy. Previous research evaluating sampling methods for Bacillus anthracis surrogates has primarily focused on indoor environments, like a building or home. However, it is unknown how well these methods work in outdoor environments and on the many different surfaces found outside. EPA researchers wanted to investigate how long spores could be detected on various outdoor surfaces, for example concrete, asphalt, vegetation, leaves, and soil; how weather conditions, particularly rainfall, play a role in the spread of hazardous contamination; and how the performance of various sampling methods (e.g. vacuums and wipes) compared.
In 2019, EPA researchers conducted field studies using a non-toxic simulant spore at the EPA's Urban Water Shed Facility, in Edison, New Jersey, the first study of its kind to compare the spore recovery from multiple sampling devices for a simulant of Bacillus anthracis over time in an outdoor environment.
The project, a joint sampling and rainfall/washoff study, was initiated to determine the length of time a simulant for Bacillus anthracis can survive on outdoor surfaces; and to assess results of outdoor sample collection methods over time and for different surfaces. For the study, concrete and asphalt parking lot areas and vegetated areas at the research site were covered with the non-toxic spores and sampled over a six-month timeframe. To evaluate how results varied by sample collection method, EPA researchers used five different traditional and emerging sampling methods over the course of this study, including sponge sticks, 37-mm vacuum filters, grab samples of grass, leaves, and soil; robotic floor cleaners, and wet vacuum samplers.
Results suggested that vacuum sampling techniques detected spores for more extended periods than the other methods. After three months, spores continued to be detected on the asphalt. However, all sampling methods achieved higher recoveries on concrete over asphalt. 
"From our study we were able to see that some methods detected spores for a longer period of time than other methods," said Anne Mikelonis, one of the EPA lead scientists for the study.  "We also found that some methods collected similar recoveries of spores which then allows decision makers the flexibility to select sampling options based on other constraints such as cost and ergonomics for the responder taking the samples."
Events that distribute hazardous material over large expanses of land (wide area incidents) are unexpected. Developing remediation plans, determining appropriate decontamination options, and establishing cost-effective, robust and accurate sampling methods before an incident can help recovery following the release of a biological contaminant.
EPA's study of fate and transport of Bacillus anthracis helps emergency responders, water utility operators, and other decision makers at the local, state, tribal, and federal level, anticipate how a heavy rainfall or precipitation event could impact a widely contaminated area. The results of the study also provide flexibility in determining which sampling approaches are most effective at evaluating the cleanup of contamination in outdoor areas in order to minimize human health and environmental risks based on particular contaminants.
"Our research has helped us hone in on our next course of target outdoor experiments and provided a framework for side by side sampler evaluation outdoors," stated Mikelonis.
Learn More
Comparison of surface sampling methods for an extended duration outdoor biological contamination studyExit