EPA Science Matters Newsletter: Advancing Anthrax Response Capabilities
Published November 2013
EPA researchers developed an open-access protocol for anthrax detection and informing response activities.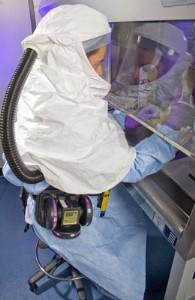 During and following an anthrax attack, emergency responders and clean-up officials will depend on many different laboratories to process large quantities of various kinds of samples to determine the nature and extent of contamination.  And then, after initial clean-up efforts have been completed, multiple "clearance" samples would need to be tested to evaluate whether anthrax-causing Bacillus anthracis spores were adequately reduced.
EPA researchers have combined many of the analytical procedures the Agency's Environmental Response Laboratory Network (ERLN)  would need to perform into a single, "open-access" protocol, the Protocol for Detection of B. anthracis in Environmental Samples during the Remediation Phase of an Anthrax Event (2012) (PDF)  (82 pp, 1.2 MB, About PDF).   "Open-access" means that laboratories across the nation have access to a consistent set of directions and to the key components of the analysis.  The essential additives, developed by Agency researchers, are DNA probes for Bacillus anthracis that laboratories need to conduct rapid analysis.
The ERLN is a nationwide network of federal, state, local and commercial environmental laboratories (including sub-network for water samples, the Water Laboratory Alliance) charged with analyzing chemical, biological and radiological contamination following a terrorist attack.
"With the availability of this open access Protocol, EPA and its partners will be able to analyze a large number of environmental samples to detect Bacillus anthracis quickly and accurately during any incident.  The Ba Protocol would also enable laboratory analysts to compare lab results from one to another," explains Sanjiv Shah, PhD. senior EPA microbiologist.
Reducing the time it takes for labs to provide officials with the data they will need to guide clean-up efforts and advise occupants on when they can start to re-visit or re-occupy formerly contaminated facilities is another expected impact of the Protocol.  
"The availability of this new EPA Protocol will improve the nation's ability to protect our health and environment and ease the hard work of recovery following an anthrax incident," says EPA's Acting Associate Administrator for Homeland Security, Juan Reyes.