EPA Science Matters Newsletter: EPA's ToxCast and ExpoCast: Chemical Screening, Better and Faster (Published January 2014)
EPA scientists and partners are advancing the next generation of chemical safety assessments.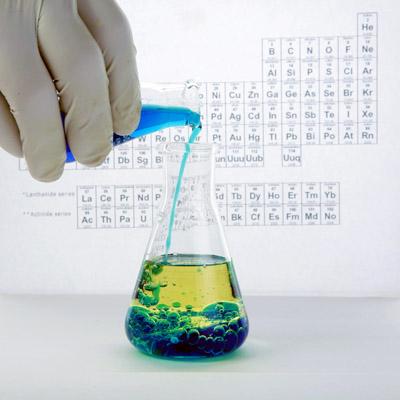 As demand for chemical safety information increases, there is a need to develop safety assessment tools that can be applied to large numbers of chemicals. Traditional testing methods rely on the use of laboratory animals and are slow and costly. Typically, scientists expose small rodents or fish to the substance they are testing and then carefully observe the animal for signs of disease or other harmful effects.
Thoroughly testing even a single substance can take years, and costs can run into the millions of dollars.
With the relatively slow pace of testing and with hundreds of new chemicals introduced into the marketplace every year, it's easy to see the enormous challenge facing EPA policy makers and others working to advance the safe and sustainable production, use, and disposal of chemicals.
To make testing faster and more efficient, EPA scientists are harnessing advances in exposure science, molecular and systems biology, chemistry, toxicology, mathematics, and computer technology. In doing this, they are helping to revolutionize chemical screening and evaluating techniques.
A major part of this effort is the Agency's Toxicity Forecaster, or "ToxCast." ToxCast uses automated, robotic-assisted "high-throughput screening assays" to expose living cells to chemicals. The cells are then screened for biological activity and other changes that might suggest potential toxic effects. These innovative methods have the potential to limit the number of necessary laboratory animal-based toxicity tests while quickly and efficiently screening large numbers of chemicals and other substances.
"ToxCast gives us a snapshot of how thousands of chemicals may perturb important biological processes leading to potential toxicity.  This knowledge helps us to prioritize chemicals for more in depth evaluation." says Dr. Russell Thomas, director of EPA's National Center for Computational Toxicology.
Results of Phase I, concluded in 2010, have been widely published in peer-reviewed literature (see Update on EPA's ToxCast Program: Providing High Throughput Decision Support Tools for Chemical Risk Management), and all data sets are publicly available for online independent analysis through the ToxCast database. This research shows ToxCast can help profile and prioritize chemicals to help predict toxicity.
In addition, scientists have published papers in scientific journals using ToxCast data that correlate perturbation of certain cellular processes with specific toxic responses.
In 2013, EPA researchers have now moved into the second phase of ToxCast. This phase used the new, automated methods to evaluate over 2,000 chemicals from a broad range of sources, including industrial and consumer products, food additives, and potentially "green" substances that could replace existing chemicals. Screening includes assays to test for different types of toxicity such as reproductive and developmental effects, and cancer.
ExpoCast

To complement ToxCast, EPA scientists have also developed ExpoCast, a computer model to predict chemical exposures. Exposure science provides the foundation for developing approaches to prevent and reduce potentially harmful exposures and safeguard human health and the environment.

"While ToxCast uses rapid, automated chemical screening to assess the potential toxicity of thousands of chemicals, the exposure piece of the puzzle is also needed to complete the picture of risk," says EPA physical scientist John Wambaugh. "Having rapid, automated predictions for hazards, from ToxCast, and for exposure, from ExpoCast, provides us with the means for efficient risk-based prioritization of chemicals."

Exposure Science in the 21st Century: A Vision and a Strategy - a National Academies of Science (NSA) report that provides guidance to EPA and others about what exposure data is needed to complement the toxicity data from ToxCast

ExpoCast begins to incorporate the NAS recommendations and is able to predict a person's exposure to chemicals present in their (outdoor) environment. Recent progress has centered on cataloging chemicals present in the indoor setting and consumer products.

"We have made great strides in our ability to estimate human exposures across thousands of chemicals.  We will share information from both the ToxCast and ExpoCast efforts in open and transparent ways in order to engage the public and other stakeholders in how best to use this information to ensure the safety of chemicals," says Russell.

Making Chemical Safety Information Transparent, Accessible, and Useful

Both ToxCast and ExpoCast data are publically available for anyone to access and use as part of the Agency's commitment to gather and share its chemical hazard and exposure data in open and transparent ways.

"We are harnessing the wide accessibility of the internet to democratize chemical safety data, bringing our research results and data to anyone who might benefit from it," explains Tina Bahadori, D.Sc., EPA's national program director for Chemical Safety for Sustainability (CSS) research.
EPA researchers developed web-based applications called "Chemical Safety for Sustainability Dashboards." The CSS Dashboards will provide access to all ToxCast data. They support transparent decision making based on innovative science.

CSS Dashboards use advances in computational toxicology and integrate diverse sources of chemical information to provide an easy-to-use, interactive website to help users better understand potential risks to human health and the environment. By design, they are modular and can be tailored for the specific decisions, allowing users to package and integrate selected chemical data.

The three main functions of Dashboards are for:

selecting the chemicals and data of interests,
exploring and scoring the selected chemicals and associated data, and
using this information to prioritize chemicals based on the users' evaluation.

In the future, these tools can be applied by EPA and other interested stakeholders to integrate chemical information to better understand the impact of chemicals.

Making ToxCast data available through the CSS dashboards makes it easier for EPA to ask external stakeholders to look at this new data and determine ways to use it to inform decisions made about the safety of chemicals. EPA actively engages partners to get feedback about how to make this new chemical data more understandable and useable. EPA hosts workshops, webinars and training to inform partners and solicit feedback about how to improve research so that it can be used to inform decisions. EPA has hundreds of research partnership agreements in place with outside organizations to share research data and studies.