EPA Science Matters Newsletter: Helping an Ally, and Learning from Disaster
Published November 2013
EPA homeland security researcher and partners help Japan in the aftermath of devastating earthquake, tsunami, and radiation leak.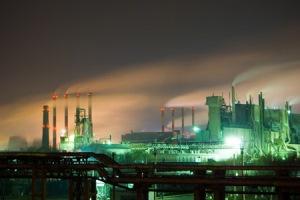 In March 2011, an earthquake and subsequent tsunami devastated the eastern shore of Japan. In a sea of destruction, the most long-lasting impact will certainly be the damage inflicted on the Daiichi Fukushima nuclear power plant.   At the nuclear power plant, the loss of electrical power and backup generators resulting from the earthquake and tsunami meant recirculation of cooling water could no longer be sustained causing some of the reactor vessels and spent fuel storage pools to overheat. The inability to control temperature in these areas of the plant eventually resulted in ambient and atmospheric radioactive releases. 
These uncontrolled discharges contaminated the environment near the plant and left a large area of uninhabitable land. Communities as far as 25 miles from the accident were evacuated, approximately 100,000 residents were forced from their homes and many still have not been able to return to the most affected zones.
The atmospheric releases and discharges of contaminated water from the plant into the adjacent shore of the Pacific Ocean caused concern around the world.  Most recently, several tons of radioactively contaminated water has leaked from an on-site storage tank farm, rendering fish from nearby waters to be declared unfit for consumption.
From the onset of this disaster, the United States, along with other countries, has been providing assistance to Japan to deal with the disaster and its aftermath. As part of this U.S. assistance, Dr. Sang Don Lee, an EPA technical expert in radiation remediation, was selected as an Embassy Science Fellow by the U.S. Department of State to provide expertise and advice to Japanese officials and to bring what he learned during his tenure in Japan back to the U.S.
Lee, along with colleagues from the U.S. Department of Energy (DOE), Robert Sindelar and Mark Triplett, worked with Japan's Ministry of the Environment (MOE) to assess their complex program of off-site decontamination work. Over a period of several months, the team made recommendations to strengthen the MOE's decontamination efforts.  Both DOE and EPA continue to provide additional consultation and guidance to Japan as part of this effort.
"I am shocked by the size of the impacted area," said Lee. "The response of the Japanese national and local governments to this unprecedented situation has been impressive," he added. "I had a chance to visit Fukushima City which is approximately 40 miles northwest of the power plant. From our experience, we believe they will continue to face unparalleled challenges such as the recent tank farm releases, but the Japanese government is doing their best to expedite the remediation of the impacted area."
Some of the recommendations the American scientists made to the Japanese government included establishing more comprehensive radiation protection measures; ways to manage long-term decontamination programs, such as those currently used in EPA's Superfund program; and best practices in communicating cleanup efforts and radiation risks to the public.
"The Japanese government sought our input to find the best solutions for their remediation efforts. They organized site visits in the impacted area and facilitated discussions with experts from various Japanese institutions including the National Institute of Environmental Studies, the Japan Atomic Energy Agency, Fukushima Prefecture and its municipalities, and decontamination contractors, said Lee."
Lee mentioned how important it is for the United States to build on the lessons learned from these efforts in order to improve U.S. preparedness efforts for addressing a situation like this.  EPA's Homeland Security Research program is using Lee's experiences to help shape its research investments.
"If this kind of incident were to occur in the United States," said Lee, "it would be critical to promptly and properly respond so that our lives can quickly recover."
"This kind of incident can impact our lives in various aspects. And not only our health, but also aspects of our psychological, social, and economic well being," he explained. "EPA and other department and agencies have some experiences from previous incidents and have also been working hard to improve their response and recovery capabilities.  However, as evidenced by the disaster in Japan, we still have work to do to improve our preparedness for any wide area contamination incident such as in Fukushima," he added.
"Japan's current remediation work will provide useful knowledge to the international community on better ways to prepare for potential nuclear incidents or terrorist attacks using radioactive materials.  As a scientist, I think we can learn from them in areas such as the efficacies of various decontamination technologies, managing large amount of radioactive waste, the behavior of radioactive materials in various environments, and radiation monitoring strategies."