EPA Science Matters Newsletter: MCnest: Not Just for the Birds (Published January 2014)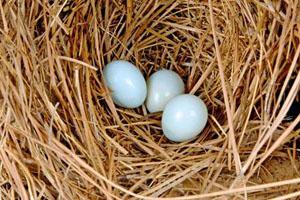 EPA model helps clarify pesticide effects on bird populations.
EPA researchers are developing a model that estimates the potential impact of pesticide exposures on the reproductive success of bird populations. The model is called the Markov Chain Nest Productivity Model, or MCnest for short.
MCnest combines existing avian (bird) toxicity test results, species life history information, and the timing of pesticide applications (relative to breeding season), into the development of a digital, easy-to-use tool that scientists and risk assessors can use to estimate proportional changes in reproductive success brought on by pesticide exposure during breeding activities.
According to EPA ecologist Matthew Etterson, Ph.D. "This model is an important first step in moving avian pesticide risk assessment forward."
If results from MCnest indicate potential adverse affects on avian reproduction, the Agency may cite those findings in order to regulate pesticide use under the Federal Insecticide Fungicide and Rodenticide Act (FIFRA), and in support of the Endangered Species Act (ESA). The ESA is administered by the U.S. Fish and Wildlife Service and the National Marine Fisheries Service, and requires federal agencies to ensure that any action they authorize won't jeopardize listed threatened or endangered species.
Though MCnest is still in its early stages of development, advances are expected that will improve exposure estimates and more realistically describe the length of avian breeding seasons.  The researchers are also applying the concepts behind MCnest to develop a model for fish, and a similar model is possible for mammals.
As its capability grows to take in data about more species, MCnest can help transform EPA's approach to ecological risk assessment. In time, MCnest may play a greater role in ecological risk assessment and provide a greater understanding of pesticides and their impact on wildlife and our environment.