EPA Science Matters Newsletter: PCB Research Supports Safer Schools
Published August 2013
EPA researchers help answer questions about potential exposures in schools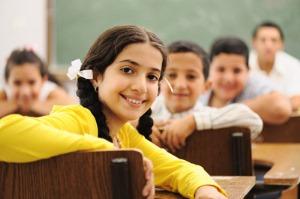 EPA researchers recently completed five studies to answer questions about polychlorinated biphenyls, or "PCBs," in schools.  What they are learning is providing information to help minimize exposures and better protect students, teachers, and others.
PCBs are a group of manmade chemicals that were widely used from 1950 until the late 1970s. Congress banned their use and manufacture in 1976 in the face of growing evidence linking PCB exposure with adverse human health effects, including cancer, reproductive problems, and neurological development. 
Because they are heat and flame resistant, they were used in schools and other buildings constructed during that time. For example they were a component of fluorescent light fixtures and were added to paints, adhesives, and caulking.
While PCB exposures have been greatly reduced after they were banned, they are persistent by design and may still be present in or near places where they were used.  Buildings, including schools, built or renovated between 1950 and 1970 may contain PCBs, particularly in or around window caulking or in older fluorescent lighting fixtures.
In response to concerns raised by the public about PCBs in schools, in the fall of 2009 EPA announced a series of steps that building owners and school administrators should take to reduce exposure to PCBs that may be found in caulk and other materials in buildings constructed during this timeframe. Also in 2009, EPA scientists also began researching PCB sources, evaluating potential routes and pathways of exposure, and studying mitigation and remediation methods.
EPA released the results of this research in five studies and a literature review. A summary of the study findings follow.  
In November 2012, EPA used the results of this research to update its PCB guidance about how to reduce exposures to PCBs that may be found in schools. As EPA researchers gain new information they will make further recommendations on how to best prevent harmful PCB exposure in schools.
---
Learn More