EPA Scientists Evaluate Low-Cost Air Sensors in Phoenix, Arizona
Published July 30, 2019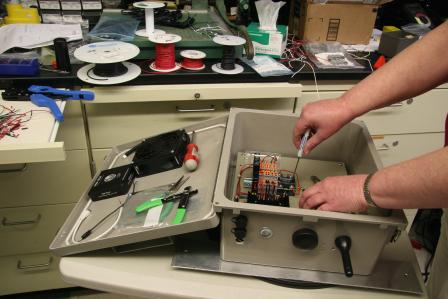 EPA researcher looks over internal components of sensor package which includes a commercial low-cost air sensor, to measure fine particulate matter (PM2.5), black carbon, and meteorological conditions.Arizona's hot, dry summers, along with dust storms and other harsh conditions, will be the testing ground for low-cost air sensors to determine how well they provide accurate data over time and under different weather conditions.
Though low-cost sensors are not considered suitable for regulatory monitoring, they can provide valuable information about local air quality to state and local stakeholders, which could help identify areas in need of more robust and accurate monitoring and/or efforts to reduce air pollution exposures.
"The accuracy of low-cost sensors can be uncertain. Can you trust what it's telling you? If you're going to put sensors out to tell you what the air quality is, you want to be confident it is giving correct information," says Meredith Kurpius, an air manager from EPA's Region 9 Office.  
That's why EPA is working with states, as well as local agencies and tribes to evaluate the ability of certain low-cost sensors to monitor pollutants under different environmental conditions.
One such project is the "Phoenix as a Testbed for Air Quality Sensors (PTAQS)" study by EPA in collaboration with the Maricopa County Air Quality Department. EPA will deploy sensor packages, which include a commercial low-cost air sensor, to measure fine particulate matter (PM2.5), black carbon, and meteorological conditions. The packages will stream minute-by-minute data using EPA's VIPER, a wireless network-based communications system.                                                                                                                                           
Starting in June, EPA will deploy and test 20 low-cost air sensor packages in Phoenix, Arizona, for a year and compare their performance to monitors used for federal regulation. Researchers will evaluate the sensors over several seasons, which will provide new information on long-term operation and performance. 
"This study is all about how low-cost air sensors perform and compare to federal equipment. The hope is that EPA will get some great information on the quality assurance and quality control aspect of these sensors and Maricopa County will get to put sensors in localized areas when they are worried about specific sources of PM2.5," says Sue Kimbrough, lead EPA researcher of the PTAQS study.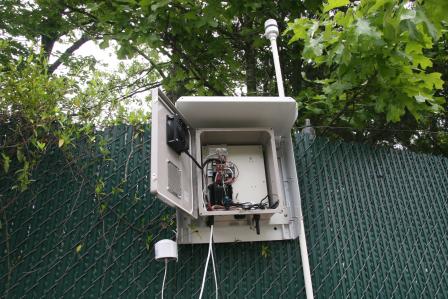 One of the many low cost air sensor packages that will be stationed around Phoenix, Arizona as part of the EPA study.EPA researchers are placing  sensors throughout Phoenix in areas where biomass burning is more prevalent in the winter to assist the county with its Fireplace Retrofit Program. Fine particulate matter can come from many sources including motor vehicles, power plants and wood burning. To observe the output of PM2.5 from woodburning fireplaces specifically, researchers are measuring black carbon in addition to PM2.5, which is a good marker for biomass burning. The Fireplace Retrofit Program encourages homeowners in areas shown to have the highest PM2.5 concentrations during wood burning season to put in more efficient systems that reduce air pollution, such as switching to a natural gas log set or installing an air pollution reduction device.
"Maricopa County will pay up to $2,000 toward the total retrofit cost of a fireplace," says Tina Wesoloskie from Maricopa County Air Quality Department. "This program is a good chance to link fireplaces with poor air quality and air quality-induced health effects in the mind of residents."
The research contributes to EPA's expanding activities to partner with state, tribal, and local air agencies to deploy sensors to collect information relevant to community needs. At the end of the study, EPA will share results with all collaborators. 
Learn more about air sensor research by visiting EPA's Air Sensor Toolbox.