EPA Tool Helps Guide Coastal Communities to Consider Consequences of Complex Environmental Challenges
Published June 4, 2020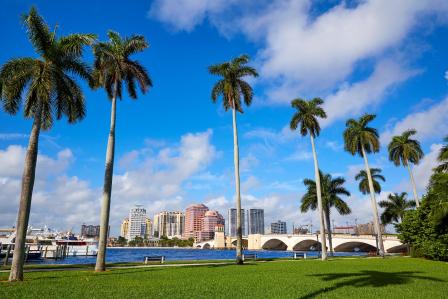 The global mean sea level has increased 8.2 - 9.4 inches since 1880, with the National Oceanic and Atmospheric Administration projecting increases for most coastal areas in the continental United States of 1-3 ft higher than the global average by the year 2100. Areas like Southeast Florida are considered especially vulnerable to the effects of sea level rise, due to low topography and peninsular shape.
Changes to community planning are critical to accommodate population growth while protecting communities from the risks rising sea levels pose, such as increased flooding, higher storm surges, damage to property, and disruptions to daily life. Proper planning has the potential to create more resilient coastal communities.
To address these needs, Palm Beach County, Broward County, Miami-Dade County, and Monroe County formed the Southeast Florida Regional Climate Change Compact. The Compact aims to develop strategies, share information, and assist communities within the southeast Florida region with their resilience planning challenges.
With the help of EPA scientists, the Compact hosted two resilience planning workshops for residents of the coastal community of Dania Beach and environmental planners in Broward County. These workshops focused on identifying shared objectives and guiding the development of action plans to combat the community's risks and fears. The workshops used an online program developed by EPA scientists called DASEES (Decision Analysis for a Sustainable Environment, Economy, and Society) that guides participants through a structured decision-making process.
"Communities facing the complex problems resulting from flooding and sea level rise can sometimes struggle with how to weigh and consider the linked environmental, economic, and social concerns and consequences of possible solutions," Dyson explained. "DASEES provides a space and process to integrate expert knowledge with stakeholder concerns. DASEES also helps stakeholders and decision-makers create, analyze, and evaluate possible solutions in a rigorous, transparent, and inclusive process, leading to more informed decisions that align with their environmental, economic, and societal values."
The first workshop included community stakeholders from the southeast Florida region, Broward County, and Dania Beach. Attendees identified common resilience objectives and performance measures across the regional, county, and city administrations to better leverage limited financial and technical resources. The second workshop brought together technical experts to begin formulating technically feasible modeling and analysis strategies. These strategies were then used to identify data the group would need to understand stakeholder concerns and inform ongoing studies by Broward County environmental experts.
Through these workshops, stakeholders identified seven large-scale objectives covering a range of topics, such as maintaining positive aspects of the community, protecting human health, ensuring a good economy, and protecting the ecological integrity of the region. Each broad objective had several sub-objectives to specify what was meant by the bigger objective. For example, "protect community" was defined by "maintaining small-town feel," and "preserving historic structures."
For each of these objectives, workshop attendees participated in a value-focused brainstorming activity to develop performance measures and actions to achieve each of the sub-objectives. This activity allowed stakeholders to share input on ways of achieving their objectives using measures they understand and agree upon.
"These DASEES-mediated workshops helped interested parties at the city, county, and regional scale find ways to communicate effectively to work on common goals and leverage resources," Dyson concluded.
This communication is especially important to larger collaborators like Broward County. Broward County is engaged in hydraulic, hydrologic, and oceanographic modeling studies for assessing the effectiveness of water and shoreline management actions but results from these studies are not often communicated in a way that is useful to communities. DASEES can help make these studies relevant for community resilience.
Learn More
DASEES is available for use with the help of EPA researchers.
Community Resilience Planning: A Decision-Making Framework for Coastal Communities