EPA Works with State and Local Leaders to Protect Public Health
Published April 6, 2018
From the earliest days of public health, environmental protection has been fundamental to preventing disease and ensuring a healthy population. This remains true today, and it is reflected in EPA's mission to protect human health and the environment. EPA also has a strong history of engaging stakeholders, such as state, tribal, and local governments, in its work.
To strengthen engagement and collaboration with public health professionals at the local and state levels, EPA's Office of Research and Development is collaborating with many partners including:
Through Memorandums of  Understanding (MOU) and Memorandum of Agreements (MOA), EPA and these partners are sharing critical public health information, enhancing the communication and translation of environmental public health research and activities, improving access to each organization's tools, and collaborating on specific projects.
"NEHA has been privileged to work with EPA over the past year to connect our members directly to researchers who are exploring emerging issues that directly affect practice and we look forward to continuing to collaborate to reach our mutual goals," said NEHA Executive Director, David T. Dyjack, DrPH, CIH.
"Without the EPA's innovative research, many of today's critical breakthroughs related to environmental factors, particularly those impacting public health, would not be possible. However, at the federal level, it can sometimes be difficult to connect scientific findings to their direct impact on local population health. NACCHO can bridge this gap by accessing our vast network of 2,800 local health departments across the nation, and providing them with the necessary training, tools, and support to ensure practical application of EPA resources, resulting in healthier communities," stated Jennifer Li, Senior Director for Environmental Health and Disability, in their organization's blog, NACCHO Voice.
Size of particulate matter (PM) from air pollution compared with human hair and beach sand.
These collaborations are already having positive impacts. Working with these partners, EPA is increasing outreach and training for local public health professionals on the impacts of air pollution and cardiovascular health. Short- and long-term exposure to air pollution has been associated with a wide range of human health effects including increased respiratory symptoms, hospitalization for heart or lung diseases, and even premature death.
In support of American Heart Month in February 2018, EPA's Dr. Wayne Cascio and Susan Lyon Stone, along with Dr. Janet Wright from the Million Hearts initiative, presented during a NEHA webinar about Healthy Heart Air Pollution and Cardiovascular Health. Through this webinar, more than 200 public health professionals learned about EPA research related to the cardiovascular health impacts of air pollution exposure and about the Department of Health and Human Services' Million Hearts initiative.
In preparation for the 2016 wildfire season, EPA developed and compiled a list of resources and online tools that local health officials can use to communicate with the public about actions they could take to protect themselves during wildfires. These resources and online tools included the Wildfire Smoke: A Guide for Public Health Officials,Exit which is being updated in collaboration with ASTHO and the Environmental Council of the States (ECOS); the Smoke Sense mobile application; and communication materials such as social media content and flyers to provide to the public.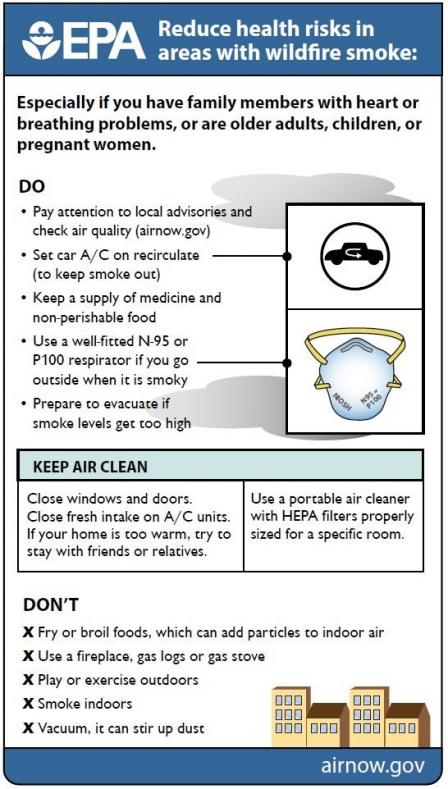 EPA tips on reducing health risks in areas with wildfire smoke.These resources proved useful during the devastating California wildfires last year. During the wildfires, social media was used to get information to the public quickly. EPA graphics quickly conveyed actions people could take to reduce their exposure to smoke. Working together with public health partners, information was swiftly spread to those impacted by the wildfires.
"Wildfire Smoke: A Guide for Public Health Officials is a great example of a resource developed through partnership with EPA's Office of Research and Development, the Environmental Council of the States (ECOS), and ASTHO," shared James Blumenstock, Chief, Health Security, Association of State and Territorial Health Officials. "ASTHO's partnership with EPA and ECOS facilitates a concerted effort to support environmental health programs and services in both state health departments and state environmental agencies. ASTHO looks forward to continuing this collaboration in order to support a cohesive environmental health infrastructure at the state and territorial level."
These collaborations benefit public health partners, as well as EPA.
"Connecting our science to the public health practitioners who can use it to make a real difference in their communities is critically important," said Jennifer Orme-Zavaleta, Principal Deputy Assistant Administrator for Science in EPA's Office of Research and Development. "Equally as important is having the boots-on-the-ground perspective from our public health colleagues working in local public health. Understanding their challenges and their science needs is incredibly powerful as we plan our research and develop new science-based tools, resources and approaches."
Last week was National Public Health Week, a national campaign that recognizes the contributions of public health and highlights issues that are important to improving the nation's health. This year's theme was Healthiest Nation 2030, Changing Our Future Together. Through these partnerships, EPA has been working to do just that – leverage shared goals to advance public health to create a healthier future for all Americans.