EPA's Stormwater Calculator Gets An Update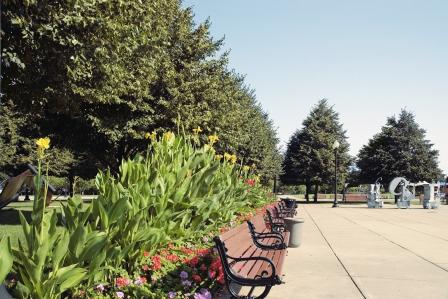 Green infrastructure in a Chicago parkPublished January 26, 2018
During a storm, it's easy to see the difference between a grassy park and a parking lot. Heavy rain falling on grass or other natural areas usually soaks in. But on pavement, rain quickly begins to pool, flow, and eventually cascades into adjacent streets and local storm drains. For urban areas with a lot of development, a big storm can mean flooding, combined sewer overflows, reduced groundwater recharge, and increased pollution reaching our Nation's waterways.
EPA developed the National Stormwater Calculator , an online tool to help support local, state, and national efforts to reduce runoff using green infrastructure practices as low impact development controls. Using local soil conditions, land cover, slope, and historical rainfall records, the Calculator provides estimates of the annual amount and frequency of stormwater runoff from a specific site anywhere in the U.S., including Puerto Rico, that is less than 12 acres.  
Users can input any location within the U.S. and select different development scenarios to see how those changes affect runoff volumes of that particular location. The tool can be used by anyone interested in reducing runoff from a property with and without the use of green infrastructure, including site developers, landscape architects, urban planners, and homeowners. The Calculator just got even easier to access—users can now use the mobile web application version that can be used on mobile devices, such as smartphones and tablets. In addition, users can now estimate the cost of their project with the new cost estimation module.
As an example of how the Calculator might be used, consider a developer or municipality planning to build a parking lot on what is currently vacant land. When they plug in the location and add data about the parking lot, they may find that runoff volumes greatly increase, perhaps even exceeding local ordinances. They may then decide to trade some parking spots for green space, incorporate permeable pavement into the design, and add rain gardens along the periphery. Running this scenario through the Calculator may reveal that runoff volumes are reduced with those changes, meeting local standards.
Register now for a free webinar on January 31, 2018 that will provide a demonstration and introduce new features.