Evaluating Low-cost Air Sensor Performance Near Wildfires
Published November 1, 2018
EPA's low-cost sensor package deployed at the Alder Fire in California.As wildfires become more frequent, intense, and severe, communities affected by wildfire smoke are concerned with air quality and reducing their exposure to particulate matter, a harmful component of wildfire smoke. But air monitoring instruments can be expensive, and temporary monitoring networks used to monitor wildfire smoke can require expertise and substantial infrastructure, which can be a challenge for smaller communities.
Recent advances in sensor technology have led to a rise in the number of commercially available, low-cost air sensors that measure particulate matter. EPA researchers are interested in how these low-cost sensors can be used to better inform small communities about their air quality during wildfires, and how the data from these sensors compares with data collected using more traditional, higher-cost instruments.
EPA is working with the U.S. Forest Service Wildland Fire Air Quality Response Program to deploy and evaluate low-cost air sensors to determine if they can be used to reliably collect information about air quality in smoke-impacted areas.
"There are increasingly more of these low-cost PM sensors commercially available and some are widely used by the public, so it is important to know how accurate these sensors are for measuring wildfire smoke," says EPA's Amara Holder, an engineer working on the project.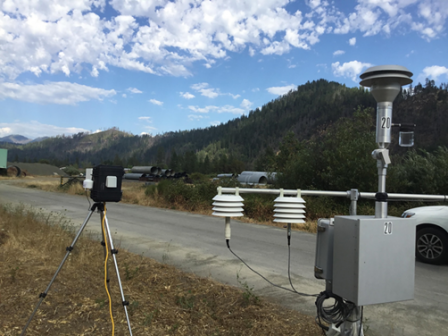 Low-cost sensor package (left) and reference monitor (right) deployed in Happy Camp, CA.The team selected commercially available sensors that were suited for low-cost outdoor monitoring networks or had been widely used by the public. Scientists designed a complete sensor system that includes mounting equipment, solar panel, battery backup, and data logging and streaming equipment all contained in a rugged weatherproof package for easy deployment.
The team conducted initial field tests at EPA's Research Triangle Park campus in North Carolina to ensure proper function of the sensor package before deploying at wildfires in the western United States. The sensor packages were deployed to three different fires in 2018, including the Natchez Fire on the border of California and Oregon in August, the Bald Mountain Fire in central Utah in September, and most recently the Alder Creek fire in California in October. Air Resource Advisors, working with the Wildland Fire Air Quality Response program, have co-located the sensor packages with higher-cost reference monitors typically used for smoke monitoring to compare sensor performance and accuracy.
Preliminary results have shown a strong correlation between the sensor measurements and reference instruments, even at the high concentrations encountered near wildfires. The research team is analyzing the data from these deployments and developing a summary report and white paper that will provide information about the performance of these sensors, how to interpret the sensor data, and how best to communicate sensor data to communities. The white paper will help state and local air quality agencies and citizen scientists who are interested in using these low-cost air sensors to conduct their own air monitoring efforts in smoke-impacted areas.