How Does Lightning Impact Air Pollution? EPA Researchers Use Innovative Air Quality Models to Measure Impact
Published September 25, 2018
Dark clouds bringing rain, rolling thunder, and lightning strikes are a frequent sight in the summer and during other parts of the year. This vivid display of nature produces more than light and sound, it also contributes in a small way to air pollution. It is all the result of chemistry.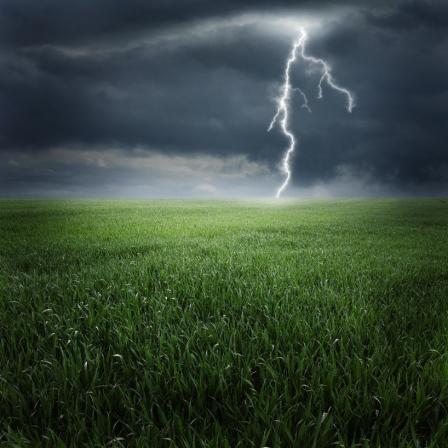 The rapid heating and cooling of the gases within a lightning bolt produces nitric oxide (NO), which combines with oxygen to create nitrogen dioxide (NO2), especially when it's moving downwind. Nitric oxide and nitrogen dioxide are referred to together as nitrogen oxides (NOx), a mixture of gases. When nitrogen oxides are created in the atmosphere during a storm, the resulting atmospheric chemistry causes one of the primary air pollutants, ground-level ozone (O3), to change.
Lightning-generated nitrogen oxides have a relatively small but potentially significant impact on ground-level ozone. As air quality regulations are tightened and the contribution of anthropogenic sources to ground-level ozone levels is reduced, it becomes more important to understand the contribution of natural sources.
While the potential contribution of lightning to air pollution has been recognized by scientists for a long time, large uncertainties remain regarding lightning strikes and lightning-generated nitrogen oxides in air quality models. EPA researchers aim to reduce these uncertainties by adding the capability to assess the impact of lightning-produced nitrogen oxides on air pollution to the Agency's Community Multiscale Air Quality Modeling System (CMAQ). This model is used by states to implement the nation's air quality standards.
This addition to CMAQ is expected to broaden our understanding of lightning's potential impacts on ground-level ozone pollution.
"Over the past two decades, CMAQ has gone through rigorous development and evaluation, thus it represents the state-of-the-art air quality modeling system," explains EPA researcher Daiwen Kang. "As a 'one-atmosphere' model, CMAQ simulates the transport and fate of air pollutants from local to continental scales and from hour or even minute time intervals to years. These features enable us to assess both the short and long-term impacts of lightning on air pollution over different geographic boundaries."
The contribution of lightning-produced changes in atmospheric chemistry to overall air quality is determined by several intertwined factors in the atmospheric system, including the amounts and locations of human-produced air emissions. That's why researchers need to use innovative air quality models, such as CMAQ, to truly understand the impacts. As the National Air Quality Standards (NAAQS) for ground-level ozone have been set to protect public health, ozone resulting from the influence of humans has been reduced. From 2000 to 2017, there was a 17% decrease in the national average of ozone because of these efforts. Now, to improve the accuracy of air quality predictions, it is important to evaluate the impact that natural sources, such as lightening-generated nitrogen oxides, may have on ground-level ozone.
Learn more on CMAQ's web page.