Inside EPA: A Closer Look at Some of EPA's Laboratory Research Facilities
Published April 6, 2018
EPA's Office of Research and Development (ORD) provides scientific research that is the foundation of decisions to better protect public health and the environment. ORD works closely with EPA's regulatory offices, states, and communities that use and need its research to identify the most important environmental health challenges facing the nation.
ORD scientists and engineers work in laboratories and centers located in 12 facilities across the country that provide research used at the local, regional, national and international levels. Scientists and engineers at these facilities play a major role in engaging local communities in science. Below are seven of ORD's most geographically-significant research facilities.
---
Narragansett, Rhode Island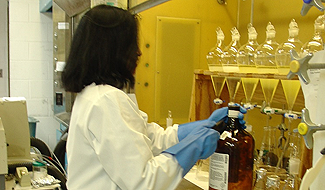 An EPA scientist conducts research in the chemistry lab at EPA's Narragansett, Rhode Island lab.EPA researchers in the Narragansett laboratory research facility focus on the ecology of oceans, estuaries, and watersheds, and the effects of human activities on that ecology. The laboratory contributes to the local economy in Narragansett and the surrounding region, and is an active participant in the local community. Projects conducted there include working with communities to prepare for rising sea levels and more frequent storms. To help lessen coastal erosion, EPA researchers are testing options for creating "living shorelines," which use plants, sand and rocks to provide natural shoreline protection. Investigators also conduct innovative research to assess and predict the risks of human activities to near-coastal waters and their watersheds, develop tools to support resilient watersheds and water resources, inform decisions about sustainable management of nutrients, and link environmental conditions to the health and well-being of people and society.
---
Gulf Breeze, Florida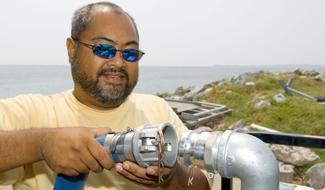 Testing a pump in preparation for field sampling in Gulf Breeze, Florida.EPA's researchers in Gulf Breeze focus on the impact of human-made stressors on Gulf Coast ecosystems and the impact of those stressors on public and environmental health. Gulf Breeze scientists are leaders in developing ecosystem models to inform watershed management decisions, and experimental and modeling approaches for predicting the toxicity of chemicals on wildlife populations. For example, ongoing research includes investigating the links between stressors such as agricultural runoff and low oxygen levels or hypoxia in the Gulf of Mexico that create areas called "dead zones." Scientists use a unique 14,000 square-foot wet laboratory to evaluate the impact of stressors on freshwater and saltwater species under controlled conditions. Laboratory staff also participate in ecological crisis response—including hurricanes and oil spills—with expertise in methods development, survey design, data analysis and interpretation.
---
Research Triangle Park, North Carolina
EPA's laboratory in Research Triangle Park (RTP) is one of the Agency's largest research facilities. The facility researches decontamination technology, computational toxicology, how humans and other species are exposed to pollutants, and the health effects of air pollution and chemical contaminant exposure using both experimental models and clinical and epidemiological approaches. The RTP facility has one of the few large aerosol wind tunnel facilities in the nation, a unique facility to evaluate the health effects of inhaled pollutants. Researchers at the RTP facility are also engaged in community-based research, such as the Village Green project that installs air monitoring benches across the country. Once the bench is installed, anyone can go online and view the data to learn more about air quality in their community.
---
Duluth, Minnesota 
The EPA Duluth facility is focused on how water quality changes can affect human health. EPA scientists predict and assess the effect of chemicals, bacteria, and land use changes on Great Lakes water quality, freshwater species, and other freshwater resources in the United States. Scientists conduct this research at a unique facility where numerous sentinel freshwater species are grown in Lake Superior-sourced water so stressor-effects can be evaluated under controlled conditions. In addition, scientists in Duluth are engaging the community by educating students on the impact of human activities on Lake Superior and the St. Louis River Corridor.
---
Ada, Oklahoma
The Robert S. Kerr Environmental Research Center in Ada, Oklahoma, is a major EPA laboratory research facility where researchers conduct groundwater, subsurface contaminant remediation, and ecosystem restoration research. The Ada facility includes laboratories, field equipment, and test wells that investigate groundwater contaminant transport, and develop and assess technologies for remediating groundwater contamination. Ada EPA scientists have developed a method to estimate the potential for pollutant contamination of drinking water wells. The facility also provides technical support to state and local government decision-makers on groundwater and subsurface contamination issues. Ada scientists engage the general community by mentoring local students at East Central University and participating in local events such as Water Fest, an annual interactive education event for fifth graders.
---
Corvallis, Oregon
Researchers at EPA's Corvallis, Oregon, facility investigate the freshwater and coastal ecosystems in the Pacific Northwest and across the country. The Corvallis laboratory has unique capabilities that include a stable isotope analysis research laboratory that can trace the path of chemicals moving through the environment. Scientists work with states and tribes to support the National Aquatic Resource Surveys, which assess the quality of the nation's coastal waters, lakes, reservoirs, rivers and streams, and wetlands. Researchers are also developing modelling methods to identify the location and size of pockets of cold water that can be used by migrating salmon, which could be critical to the survival of salmon. EPA scientists are also engaging with the community by working with local farmers in the Willamette Valley to increase crop production without polluting downstream waters. 
---
Cincinnati, Ohio
Researchers in EPA's Cincinnati facility conduct a variety of research to manage chemical risks, clean up hazardous sites and protect water quality. Recently, researchers provided technical assistance to Flint, Michigan, during the water contamination crisis. EPA scientists developed pipe rigs for corrosion control studies at Flint's water treatment plant and then trained representatives from Michigan Department of Environmental Quality and the City how to conduct the studies.  EPA scientists also provided sampling guidance, data management and modeling support, expertise in disinfection and flushing programs, and used EPA Cincinnati's solids and surface laboratory to analyze lead pipe scales and the effects of pipe corrosion. EPA is also working with local community groups to developwater quality monitoring, modeling, and management practices.
---
Research to Support EPA's Mission
EPA's research laboratories produce data that inform decision-making critical to protecting human health and the environment. The laboratories possess research capabilities that best allow them to address geographically-based environmental issues and advance different areas of science. EPA shares its research findings and tools at conferences and webinars, and collaborates with outside organizations through research agreements, such as Memorandums of Understanding (MOU) or Cooperative Research and Development Agreements. For example, EPA and the Association of Public Health Laboratories currently have an MOU to better facilitate communication and partnership between EPA and public health laboratories.
In addition, EPA's research laboratories are collaborating with communities on local environmental challenges and contributing research to help local decision makers. Through community engagement, outreach and targeted research, EPA is leading innovative science in communities throughout the country and worldwide.