Keeping up with 3D Printing: EPA Researchers Build on New Plastic Emissions Study
Published September 10, 2019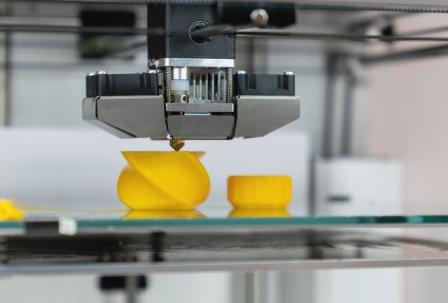 3D printing filament comes in a wide variety of colors, materials, and additives.If you can name it, there is a chance you can create it with a 3D printer. From plastic prosthetics to futuristic furniture, the list of 3D printable items continues to grow. With 3D printers becoming more affordable and entering more homes and workplaces, EPA scientists, through an agreement with the Consumer Products Safety Commission, are investigating whether increased use of these printers can lead to unintended adverse impacts to human health.
"Users may not be aware of chemical emissions during the printing process," notes Dr. Souhail Al-Abed, lead EPA scientist of a new study on the subject. His team's research shows that common 3D printer ink, or filament, can emit gases during the printing phase that may pose a health risk to users and bystanders. The most concerning of these emissions are known as volatile organic compounds, or VOCs for short.
While there have been many studies on the effects of VOCs from 3D printing, none have considered how these emissions change when certain additives are introduced to the 3D printing filament. Therefore, Dr. Al-Abed's team closely examined a commonly available filament that is sold both with and without carbon nanotube inclusions to determine whether VOC emissions changed between the two types of product.
So why would anyone add carbon nanotubes to their 3D printing projects? The unique atomic structure of carbon nanotubes has the potential to be both stronger and lighter than steel, leading some to believe it could fortify 3D creations. In addition, carbon nanotubes are very conductive and have valuable thermal properties that make them ideal for applications in electronics. For these reasons, consumers have been quick to purchase filaments containing carbon nanotube additives – but the potential human health side effects associated with emissions from these types of filaments have been unstudied until now.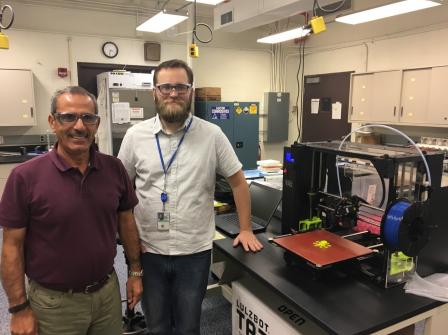 EPA scientists Dr. Souhail Al-Abed and Phillip Potter.Dr. Al-Abed's research team quantified and characterized VOC emissions from carbon nanotube filaments under a variety of conditions to simulate the different heating, melting, and forming of plastics that can occur during 3D printing. The team was careful to consider the temperature, length of time the material was heated, and oxygen concentration at the nozzle. These factors all are common parameters that users can change based on their personal settings, equipment, and project needs. The different conditions were carefully replicated inside a special device known as the System for Thermal Diagnostic Studies – a customized reactor and mass spectrometer meant specifically for looking at combustion-related emissions. 
After comparing the emissions from the carbon nanotube infused filament to the 'plain' 3D filament, Dr. Al-Abed's team made several conclusions. First, the team found that the filaments with carbon nanotubes emitted two new VOC gasses which could potentially pose an inhalation hazard to users printing several kilograms of material. These compounds were not observed in the 'control' or regular filament group. Second, the researchers concluded that increased print temperature had the most significant effect on increasing VOC emissions, followed by increased length of time heating the material. Finally, the study also found that carbon nanotube filament may 'trap' certain VOC gasses in particulates of the printed plastic. The team's instruments could not directly measure these particulates, however, so further study will be needed to understand their potential impacts on human health.
This research plays an important part in EPA's mission to protect human health and the environment by evaluating new and emerging materials as they enter the market. The data from this study was the first from EPA to show that exposure concerns may vary based on whether or not an  additive is included in the 3D printing filament. Understanding the printing parameters that have the greatest influence on VOC emissions in a variety of filaments can lead to printer designs that better limit exposure concerns to users. As a result of the information gathered during this experiment, EPA and CPSC will continue using Dr. Al-Abed's methodology to investigate other popular filament additives and their possible effects on 3D printer emissions. For more information about the innovative study of carbon nanotubes and other emerging materials, check out the EPA nanomaterials research page here.    
EPA's research to understand exposure to and the health effects of nanomaterials are conducted as part of the interagency National Nanotechnology Initiative (NNI).  Other NNI members conducting research on 3D Printer nanomaterials include the Consumer Products Safety Commission and the National Institutes of Standards and Technology.