Latest Village Green Station Finds New Home in Houston Museum District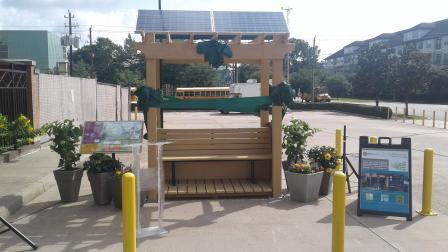 Published June 20, 2017.
Houston, Texas, is world famous for contributions to the fields of science and space. Continuing this tradition, the city is now home to the latest Village Green air monitoring station.  The Village Green project was designed by EPA researchers to provide insights into new air monitoring technology and engage the community in their local air quality.  
Located outside the entrance to the John P. McGovern Museum of Health & Medical Science (the Health Museum), the solar-powered air monitoring research station features air sensors and meteorological instruments embedded into a park bench structure. This is the eighth Village Green bench in the U.S. and will be hosted by the Health Museum and the Houston Health Department, who will maintain the bench and help evaluate the sensors' performance.
Each Village Green station continuously measures two common air pollutants (ozone and fine particulate matter, also known as PM2.5), as well as wind speed and direction, temperature, and humidity. The measurements are transmitted to a public website every minute: www.airnow.gov/villagegreen. The stations are all located in public environments, including elementary schools, public libraries, the National Zoo, a national park historic site, science centers, and a public children's garden. Not only do the stations engage the public in learning about local air quality, but they have also been shown to closely compare with higher-cost monitoring stations.
On June 15th, representatives from The Houston Health Department, the Health Museum, EPA, students, members of academia, and the local community held a ribbon cutting ceremony, formally opening the new air monitoring station. At Houston's Village Green station, a third-generation of the station design, researchers have added additional sensors to measure black carbon, nitrogen dioxide, and total volatile organic compounds and will be evaluating their performance.  The Village Green bench will be incorporated into the Health Museum's interactive health and science education experiences, which attracts over 2.5 million visitors per year.
"Houston has more air monitors than any other city in the country but they are on top of research trailers closed to the public," said Stephen L. Williams, director of the Houston Health Department. "The Village Green bench will stream real-time measurements of air pollution and give visitors opportunities to learn about the importance of clean air and ways to reduce air pollutants."
"Our goal as Houston's premier science interactive learning center is to make this type of knowledge and information accessible to every single member of our community," expressed Dr. Melanie Johnson, President and CEO of The Health Museum. "We are excited to bring the first Village Green Station to Texas in collaboration with the EPA and the City of Houston."
"The benches were borne from a desire to advance sensor technology and engage the community about local air quality" said Ron Williams, EPA researcher and Village Green co-founder. "It's incredibly satisfying to see our research project become part of the Health Museum's publically accessible exhibits, and their larger efforts to educate and inform the public on environmental and public health issues.  We hope that our bench inspires a few more students to become air quality scientists. "
Learn more about the Village Green project and visit our Village Green website to see if you live close to a Village Green bench. If you stop by, don't forget to snap a selfie with the bench and if you share your images on social media, be sure to tag them #VGbench: www.airnow.gov/villagegreen