The Legacy of EPA's Acid Rain Research
Published August 18, 2020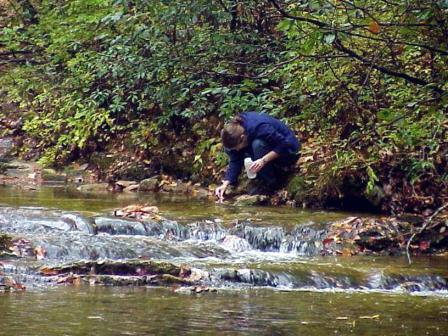 An EPA scientist testing the acidity of a stream (2004).In EPA's 50 years of research, one of the most significant environmental challenges the nation faced was the problem of acid rain. Although evidence of acid rain's harmful effects emerged centuries ago, it wasn't until the early 1980s that it was recognized as a major threat. In taking part in the national effort to combat acid rain, EPA scientists helped usher in a new chapter of environmental science.
Acid rain forms mainly through reactions with the chemicals sulfur dioxide and nitrogen oxide found in fossil fuel emissions. It can take the form of acidic rain, snow, or dust and can travel hundreds of miles in the air before falling to the Earth's surface. While normal rainwater is slightly acidic at a pH of 5.6, by 1980 the average rainfall in the United States was at a pH level of 4.6, about ten times more acidic and trending more acidic.
The effects of increasing acidity were widespread. Acid rain negatively affects aquatic and terrestrial life, damages structures by corroding metal, paint and stone, and threatens public health. In the early to mid '80s, scientists observed that many lakes and streams were becoming too acidic to support fish, amphibians, and other aquatic life. On land, acid rain was stripping nutrients from soil and foliage that plants needed to grow. Acid rain also contributed to increased weathering of buildings, statues, and gravestones.
In 1980, Congress directed EPA, along with five other federal agencies, four national laboratories, and partners from the private sector to form the National Acid Precipitation Assessment Program (NAPAP). With increased funding to investigate acid rain, NAPAP scientists achieved a greater understanding of acid rain in just a few years.
EPA scientists played a major role in several of the program's research areas, providing support for policies like the Acid Rain Program, which helped achieve major reductions in sulfur dioxide and nitrogen oxide emissions. These research efforts contributed advancements that reverberate through the scientific community to the present day.
EPA ecologist Paul Ringold, Ph.D., joined NAPAP in 1984 and continued to focus on acid rain for a decade. "EPA had a couple of visionaries who were involved in acid rain research," he said, "and in order to address the policy questions of acid rain, they did things that revolutionized the practice of environmental science."
Monitoring the nation's waters
One of the biggest impacts of acid rain was its effects on surface water, especially in lakes in Northeastern U.S. and Canada, which exhibited higher sensitivity to acidifying chemicals. To answer questions about acid rain's impact on these lakes, scientists needed to develop new approaches to studying ecology.
Dr. Ringold explained that in the past, many ecologists tended to study individual sites in-depth—so, while scientists understood the impact of acid rain on specific lakes, they needed to look at the population of lakes to understand the extent of the problem and to respond to key science questions.
"The key questions on the ecological side were, how many acid lakes are there, and how many of them have become acidic as a result of acid rain?" Dr. Ringold said. "And, if we change acid rain, how will we change the number of acidic lakes?"
In 1983, EPA began the National Surface Water Survey to investigate the effects of acid rain on America's lakes and streams. Instead of attempting the impossible feat of sampling every lake and stream, researchers used statistical sampling methods to narrow down which were most likely to be susceptible to acid rain.
This approach to ecological research revolutionized the way EPA and similar federal programs developed datasets to monitor the environment, according to Dr. Ringold. The methods developed to answer questions about acid rain translated to other environmental questions, laying the groundwork for later monitoring programs like EPA's Environmental Monitoring and Assessment Program (EMAP) and the National Aquatic Resource Surveys (NARS). Both EMAP and NARS have advanced environmental monitoring practices and provided critical data on the health of the nation's ecosystems.
Innovations in atmospheric modeling
Robin Dennis, Ph.D., spent 30 years in EPA's former National Exposure Research Laboratory before retiring in 2015. Soon after he joined EPA in the mid-'80s, Dr. Dennis became involved in evaluating NAPAP's newly developed air quality model. The Regional Acid Deposition Model (RADM) enabled scientists to simulate how emissions interacted with the atmosphere to form acid rain, and where it would be transported and deposited. Dr. Dennis explained RADM was instrumental in answering questions about acid rain because it modeled atmospheric chemistry more accurately than other models used at the time.
"The nice thing about what EPA had done is we pulled together the tools needed to see the whole causal chain of acid rain deposition," Dr. Dennis said. "Hardly anybody has the luxury of that kind of a complete causal chain being modeled and studied."
The methods behind RADM carried over into the present-day Community Multi-scale Air Quality (CMAQ) modeling system, now a key model for air quality management. Donna Schwede is a physical scientist in ORD's Atmospheric and Environmental Systems Modeling Division. She said her team's work developing CMAQ is important for "predicting acid rain or wet deposition values, as well as looking at the ability of different proposed control strategies to reduce acid rain and its harmful effects on ecosystems." 
Today, EPA continues to work to understand the impacts of acid rain through measurement and modeling. Scientists from EPA are active participants and leaders in the National Atmospheric Deposition Program, which monitors the chemistry of precipitation in the U.S. as part of the National Trends Network.
"We also continue to improve our modeling capabilities for atmospheric deposition," Schwede said. "While SO2 emissions have been greatly reduced, other pollutants can also be acidifying, and controlling those emissions remains a challenge."
While some pieces of the acid rain puzzle remain, EPA scientists have played a critical role in the effort to mitigate the effects of acid rain, then and now. To date, initiatives like the Acid Rain Program have had great success in reducing the emissions causing acid rain. The national average of SO2 annual ambient concentrations decreased 93 percent between 1980 and 2018. Wet sulfate deposition – a common indicator of acid rain – decreased 86 percent reduction from 2000-2002 to 2016-2018. Data from EPA's Long-Term Monitoring program show marked improvements in the acidification of lakes and streams, while better air quality has led to a decrease in adult mortality and will prevent an estimated 230,000 premature deaths this year alone. In their work to address acid rain, EPA scientists not only advanced the field of environmental science, but also helped achieve substantial benefits for the environment and human health.