Local Partnership Works to Improve Watershed Health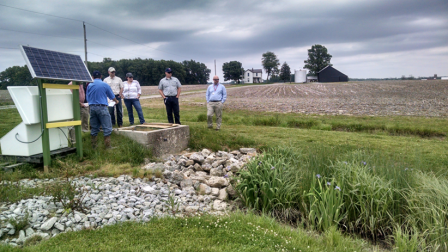 East Fork Watershed Cooperative members give a tour of the watershed in 2016.Posted April 14, 2017. Updated June 28, 2018. 
The East Fork of the Little Miami River Watershed in Ohio, like many watersheds throughout the country, has challenging water quality issues. One of these challenges is the toxin-producing algae in the Lake Harsha reservoir, which includes a diverse group of cyanobacteria that can harm public health.
Lake Harsha is a vital source of drinking water for over 200,000 residents of Clermont County, Ohio. The Lake hosts a number of events and is a common place of recreation for residents. According to John McManus, Administrator of the Clermont Soil and Water Conservation District, "There are two beaches, we have hosted two open water swim meets, and rowing regattas that bring tourism and have positive impacts on our local economy."
Over the last decade, there's been a noticeable increase in cyanobacteria in Lake Harsha. During the 2015 monitoring season, Lake Harsha posed the highest risk to public health in terms of cyanobacteria cell densities among twenty reservoirs monitored by the U.S. Army Corps of Engineers in the surrounding region. Research has shown that the reservoirs with the highest risk are also the ones with the least amount of forest in their watershed, which historically has been replaced by agricultural areas. This suggests a relationship between the extent of agriculture and the increasing cyanobacteria. But agriculture has been a part of these watersheds for a very long time, so why wasn't this increase noticeable until recently?
That's what EPA researchers and partners are currently trying to figure out. EPA established the East Fork Watershed Cooperative—a group of scientists, engineers, economists, and water resource professionals from a variety of organizations—to find the best ways to improve water quality in the watershed. So far, they have found that the surface water temperatures in April and May have increased nearly 5 degrees Celsius since the late 1980s. They also noticed that total phosphorus is five times higher than it had been. Researchers used the Soil and Water Assessment Tool (SWAT) and found that the majority of excess nutrients were coming from crop agriculture. These findings help determine what may be contributing to Lake Harsha's increase in cyanobacteria.
Understanding the watershed from a systems perspective is an important next step. Each partner in the watershed plays a role in improving water quality. Farmers in the region are beginning to reduce soil erosion and sediment runoff and are adding organic matter to the soil– this will help reduce excess nutrients in the watershed. Researchers are continuing to explore the feasibility of water quality trading, a market-based approach to help meet water quality goals at a lower cost. They are exploring a market that includes more non-traditional trading partners such as the drinking water utility, septic-system owners, stormwater reduction programs, and lake recreational users.
According to EPA researcher Christopher Nietch, "We would not be able to model and monitor at the level of accuracy that we do without help at the local level. We have gained invaluable insight about farming practices and stormwater management realities in local urban areas from this practical experience."
McManus adds, "This partnership has made a huge difference in what we've been able to do at the local level. The research and expertise involved in the Cooperative has made things possible that we would never have been able to do on our own."
Thanks to the efforts of the Cooperative, the USDA Natural Resources Conservation Service provided $300,000 in funding for agricultural producers in the area to receive financial help to implement conservation practices, such as cover crops and nutrient management.
For more information about the East Fork Watershed Cooperative, please visit: http://www.oeq.net/eflmr.aspx and http://www.oeq.net/EWQC.aspx