Measuring Air Pollution in Southern California Using Low-Cost Sensors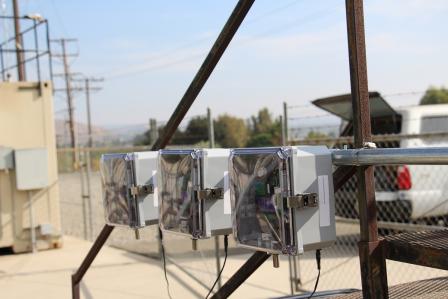 'Citizen Science Air Monitor' or CSAM sensor pods. Designed by EPA, the pods measure ozone, fine particulate matter (PM2.5), temperature, and relative humidity.Published June 4, 2018; Updated July 1, 2019
Air pollution impacts can vary depending on geography, weather, and proximity to pollution sources. For example, the Los Angeles metropolitan area often faces unhealthy air quality levels due to the unique weather, geography, and variety of air pollution sources. Some vulnerable communities in the area are disproportionately impacted because of their proximity to busy roadways, ports, railyards, refineries, and other industrial facilities, which has raised public health and environmental justice concerns.
The recent emergence of smaller, portable, low-cost air quality sensors in the marketplace has provided new opportunities for the public to measure air quality. To assist local and state air quality managers, community groups, researchers and others, EPA is conducting studies to evaluate and develop air sensor technologies and provide information on using and interpreting sensor data. Results are being made available on EPA's online Air Sensor Toolbox.   
One research project is the development of an air monitoring sensor kit for communities called the 'Citizen Science Air Monitor' or CSAM.  The CSAM includes lower cost, commercially available parts that can be customized for different uses. In June 2016, EPA collaborated with the South Coast Air Quality Management District's Air Quality Sensor Performance Evaluation Center (AQ-SPEC) in California to study the performance of the CSAM sensor pods. Designed by EPA, the pods measure ozone, fine particulate matter (PM2.5), temperature, and relative humidity.
"This research has provided us a unique opportunity to examine low-cost components and their performance features using state-of-the-art test conditions," says Ron Williams, a former project lead who has since retired from the Agency.
The Los Angeles metropolitan area is an ideal test bed for this research as it is impacted by high ozone and PM2.5 concentrations largely due to ports, traffic, and industry.
"While air quality in Los Angeles has dramatically improved over the past four decades, the city continues to have some of the worst air quality in the country," says Dena Vallano, co-lead in EPA's Region 9 Office in San Francisco. "This research addresses several core ambient air quality monitoring and regulatory priorities for EPA Region 9, including supporting communities' understanding of air quality and working towards improving the health of citizens in the Los Angeles metropolitan area through cleaner air."
From October 2016 to April 2017, tests were conducted in the field and laboratory to examine pod performance and operation in real-world conditions. First, field tests were conducted where the pods were placed alongside existing air monitoring stations using federally-approved measurement methods. During the second part of the study, some of the pods were brought to the AQ-SPEC laboratory for more detailed performance testing. In the last part of the study, the pods were deployed at nine locations in three distinct, geographical areas in southern California—Long Beach, Jurupa Valley, and Coachella Valley. In Long Beach, sensors were placed in environmental justice communities impacted by nearby refineries, railyards, roadways, and other industrial facilities. In the Jurupa Valley and Coachella Valley, sensors were placed in communities that often face elevated levels of ozone and particle pollution due to their inland locations. During the day, coastal winds push pollutants that contribute to ozone formation further inland, making it less of a problem for neighborhoods near the shore.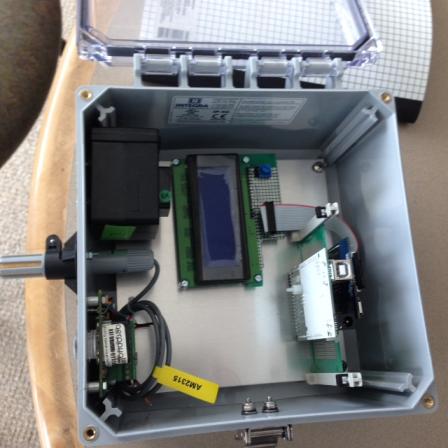 Close up view of 'Citizen Science Air Monitor' or CSAM sensor pods. Designed by EPA, the pods measure ozone, fine particulate matter (PM2.5), temperature, and relative humidity.EPA designed and developed the pods and provided guidance on the overall quality assurance and control of the project. AQ-SPEC designed, developed and conducted the field and laboratory testing evaluations of the pods, the field deployment, data collection, data quality assurance and control, and data analysis.
"Overall, this project shows how low-cost sensors can be used to monitor air quality in communities that face a variety of air quality challenges while also addressing the importance of understanding the performance of low-cost sensor devices," says Rachelle Duvall, co-lead for the study in EPA ORD.
Results from the project will provide critical knowledge on pod performance in real-world conditions and sensor data quality, and will benefit the development, distribution, and access to air quality monitoring technologies for communities. The project will also provide a better understanding of how ozone and PM2.5 concentrations vary in southern California. Initial findings of this research have been posted to the Air Sensor Toolbox website for the public to learn more about the project. Additional presentations on this project are listed below: