Meet Aimen Farraj, Ph.D., DABT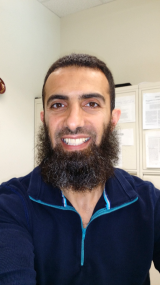 EPA Researcher Aimen Farraj, Ph.D., DABTAs the Principal Investigator/Research Biologist of the Cardiopulmonary and Immunotoxicology Branch of the Environmental Public Health Division at the EPA, Aimen Farraj focuses on understanding the potential adverse health effects of exposure to air pollution in order to improve public health standards in an innovative way. 
Tell us a little bit about your background.
I went to undergraduate school in New York City at the City College of New York. That's where I completed my bachelor's degree in biology. Then I went to Michigan State University where I completed a dual-PhD degree in pharmacology and toxicology and environmental toxicology. The focus of my dissertation work was understanding the mechanisms of chemical respiratory sensitizers. These are chemicals found in things like paint thinners, and they've been linked to diseases like occupational asthma and allergic rhinitis and other bad respiratory affects. From there, I was recruited to do a post-doctoral fellowship here at the EPA and I've been a research biologist since 2006.
How does your science matter?
If you look at what drives air pollution research, it's the epidemiological evidence (epi-data). Epi-data establishes associations between exposure (e.g. spikes in air pollution) and increases in cardiovascular effects. We try to definitively determine that the exposure causes a particular health effect. In a nutshell, we establish biological plausibility. In addition, we try to understand the mechanisms by which these effects take place. This is important because it helps us reduce uncertainty in standard setting. It gives the EPA greater confidence in the standards that they set, and air pollutant standards are key to mitigating impacts of air pollution on public health overall.
What do you like the most about your research?
I like the challenge to be innovative. It can be stressful at times, but we're tasked to discover relationships that haven't been described before or why certain relationships exist. While it can be hard work, it's certainly mentally challenging and fulfilling. It's absolutely not mundane.
When did you first know that you wanted to be a scientist?
I didn't really know until undergraduate school. I just happened to come across a resource guide to careers in Toxicology. It was created by the Society of Toxicology. I didn't know much about Toxicology so the first thing I did was go to a local Barnes and Noble and buy a book about Toxicology. I still have that book, actually! That was my first step into Toxicology. I became fascinated by the field in general and the various programs that offered Toxicology training. Given its multi-disciplinary nature, you have to be a whole systems thinker as a Toxicologist. You can work virtually in any setting in government, academia, or the industry. I thought it suited me well, particularly my career outlook; it gave me a diversity of options.
What advice would you give to students who are interested in a career in science?
Go Full-Throttle. There are plenty of opportunities. And have a working knowledge of how to code. I think it is an invaluable skill to have, particularly with emerging fields like computational modeling. There are a lot of people who are mathematicians by trade and they're getting in to biomedical research, and the fact that they have that skill sets them apart. You don't have to major in it, but a background with some coding will help a person's scientific career match where society is going as a whole.
If you could have dinner with any scientist, past or present, who would you choose and what would you ask him/her?
There are actually a couple, but one that I am marveled by is Edward Jenner. He's an English Scientist born in the 18th century. He's known as the father of immunology. His work clearly represented the first scientific effort to control infection by the deliberate use of vaccination. He took some pus from a sore on a dairy maid who was afflicted by cow pox and inoculated a boy. That inoculation protected the boy from small pox. Initially when he tried to present and publish his work, he was rejected, ridiculed, and made fun of. Eventually he was able to publish his work and was recognized throughout England and the rest of the world. I would ask him, "Oftentimes when you're the face of ridicule, you cower in humiliation. But you were able to resist all that and persist. What advice would you give me in the face of criticism to stick through it?"
What do you think is our biggest scientific challenge in the next 20/50/100 years?
I think one big challenge, if not the biggest challenge, will be addressing the health concerns of the nation's aging populace. We still have low life expectancies in most developed countries, but people are just growing older and living longer. I think one of the biggest challenges is going to be how we deal with the various morbidities and ailments that this aging populace is going to have, both with respect to resources and quality of life. It's not only a scientific issue, but also a civil, humanitarian, and population issue.
If you could have any superpower, what would you choose?
Someone asked me that before, and I joked that it would be to erase the last 25 seasons of the New York Mets. I grew up a Mets fan, and they were good in the '80s and had some good stretches in the 90's, but they've been stinking up the joint. They seem to be turning the corner this season. I've never been a New York Yankees fan, but I've had many friends and siblings who were Yankee fans and they've had tons of success, so I'm a little jealous.
Whose work in your scientific field are you most impressed by?
There's not just one. There are four university-based Clean Air Research Centers across the country. These groups are really at the forefront of advancing air quality science.  I'm also quite impressed by the work that the scientists here at the EPA do. I think the work of the health division and the exposure science division is really trailblazing.
What kind of food truck would you operate?
I like Falafel. I would have a Mediterranean type of truck. 
---
Editor's Note: The opinions expressed herein are those of the researcher alone. EPA does not endorse the opinions or positions expressed.