Meet EPA Epidemiologist Stephanie DeFlorio-Barker, Ph.D., MPH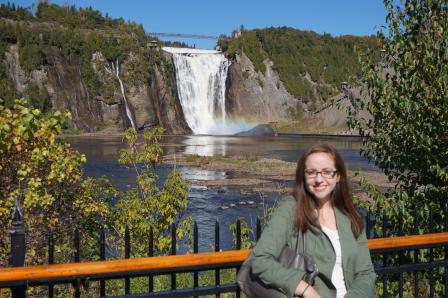 Federal Post-Doc Stephanie DeFlorio-Barker works in EPA's Center for Public Health and Environmental Assessment where she is as an epidemiologist. Stephanie focuses on investigating the relationship between human health and environmental pollution.
Tell us about your background.
I'm originally from Illinois. I have a Bachelor of Science in molecular and cellular biology from the University of Illinois in Urbana Champaign and I have a Masters of Public Health in epidemiology from the University of Illinois at Chicago. I also received my PhD in environmental epidemiology from the University of Illinois at Chicago. For my dissertation I studied the severity and economic burden associated with surface water recreation in the US.
When did you first know you wanted to be a scientist?
I was always interested in science. When I was in high school, I took AP Biology and I thought, "Man, I really like science." I discovered I wanted to be an epidemiologist when I was almost finished with my undergraduate degree. I knew I didn't want to work in a laboratory, or be a "bench scientist". This might sound silly, but I looked up jobs that I might want, and I looked at the letters after people's names. I Googled what an MPH was and thought, "That sounds perfect!" And the rest is history.
How does your science matter?
As an environmental epidemiologist, I get to see the relationship between environmental exposures and human health. What makes it exciting is that this type of research can inform decisions about policies that will protect public health.
What are you working on now?
As a post-doc, I've had great opportunities to collaborate on numerous projects. Recently, I've been working on estimating the amount of water swallowed during swimming events at beaches in the US. I am also working on a project involving wildfires and human health, particularly looking at the relationship between wildfire smoke exposure and hospitalizations for respiratory or cardiovascular outcomes among those with Medicare. Additionally, I have been exploring public health messages related to air pollution.
What do you like most about your research?
Being an epidemiologist is kind of like being a detective, it's a little bit of a mystery. That's why I enjoy it. At times it can be tedious with all of the coding and the data but it's fun thinking, "Oh, what am I going to find?" That's what I really enjoy.
If you could have dinner with any scientist, past or present, who would you choose and what would you ask him or her?
It would be Rosalind Franklin. I would ask her, what was it like being a female scientist in the 1950s? She made some incredible discoveries and I would love to see what that was like at a time when not many women were in the lab. Most women didn't have PhDs or MDs. I think it's remarkable that she was able to be so successful at a time when there weren't a lot of women in science, at least not as many as we have now.
If you weren't a scientist, what would you be doing? 
I would probably be doing some sort of art. By all means, I am not an artist, but I really enjoy art. I like being crafty and working with my hands and making things.
If you could have one superpower, what would it be?
I have a nerdy one. I do a lot of coding. If I had one superpower, it would be to write code without any mistakes and it runs perfectly on the first try!
What advice would you give to someone considering a career in science?
Being recently out of graduate school, this hits close to home. If you're interested in going into any scientific field and you find a paper or article that seems really interesting, figure out how to contact the author and email them. Ask them questions. Most scientists love to talk about their work. Ask them about how they got to where they are.
If you were stranded on a desert island, what would your job be?
Given my background of working on water issues, I think would be pretty good at identifying clean water sources and helping to divert wastewater so that we wouldn't contaminate our drinking water on the island!
Who are you most impressed by?
I'm most impressed by people living in the communities that I study. They are so dedicated to changing and cleaning up their part of the community. It's remarkable how much a person can accomplish when they are passionate. We don't always have the manpower to do everything, and they jump in and step up to the plate, and it's really awesome.  
---
Editor's Note: The opinions expressed herein are those of the researcher alone. EPA does not endorse the opinions or positions expressed.