Meet EPA Genetic Toxicologist Catherine Gibbons, Ph.D.
EPA genetic toxicologist Catherine Gibbons, Ph.D., investigates the impact of chemicals on genetic material for EPA's National Center for Environmental Assessment. Her work supports the Integrated Risk Information System (IRIS) program, which is an important resource for information on the toxicity of chemicals nationally and worldwide.
When did you first know you wanted to be a scientist?
Ever since I can remember, I've always wanted to know more about everything. My mom recognized that quality (due to my incessant questions) and would buy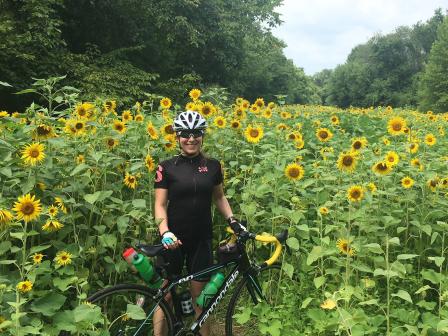 Catherine at McKee-Beshers Wildlife Management Area in Poolesville, Maryland. me books about science. At first, I didn't have a lot of confidence that I could become a scientist because in my mind scientists were these amazing geniuses, and I had no way to even come close to approaching that level. As I got older I realized that working hard and being interested in something can serve you just as well.
My job today fulfills that desire to know more about everything. I study the mechanisms that underlie the toxic effect of chemicals. We see these toxic effects, but why? What is the chemical doing to the human body, and how is your body reacting to it, that causes these effects to occur?
Tell us about your scientific/educational background.
I have a bachelor's degree in biology from the University of Texas-Austin and a Ph.D. in environmental toxicology from the University of California-Riverside. I feel lucky that I use what I studied in graduate school every day at my job.
How does your science matter?
I work with the Integrated Risk Information System (IRIS) program where I assess the toxicity of chemicals. This involves identifying what harmful effects can occur when humans are exposed to a certain chemical and how much of that chemical the human can be exposed to before those harmful effects occur, which are the first two steps of risk assessment.
I think there are a few other governmental agencies and organizations that do similar assessments, but the IRIS program takes it to another level. We account for all data on the toxicity of these chemicals and analyze these using the best science. That work makes IRIS the definitive resource for information on the toxicity of these chemicals nationally and globally.
What do you like most about your research?
 To form a coherent narrative about how a chemical could harm human health, you have to take all the research other people have produced and analyze those pieces of information together. I really enjoy being able to dig into the analysis—in some ways it feels like I'm solving a mystery. I'm really lucky to have that be a part of my work. I feel like I learn something new every day.  
If you could have dinner with any scientist, past or present, who would it be? What would you ask him or her?
Neil deGrasse Tyson. He's a very relatable scientist that would be awesome to talk to on any level and about any subject. He has a really cool scientific perspective and he is cool just as a human being. 
If you weren't a scientist, what would you be doing?
I'm the most jealous of people that work in international development or in other jobs that allow them to travel and work in other countries.  I have friends in the foreign service that live in other countries for two years at a time. Positions like that really expand your horizon and your experience.
If you could have one superpower, what would it be and why?
Time Travel. It wouldn't be because I want to change something about history, though that would be tempting. It would be because I want to go back and put on a different outfit or redo embarrassing moments, or—especially—to do work that I was supposed to do earlier. Plus I'm always late! I'd never be late again.
Any advice for students considering a career in science?
I think my advice isn't just for science but in general. It is really important to think about what you want out of life and what you are willing to do. If you go into an advanced career, which you would if you go into science, you're basically saying that a huge part of my life and identity is going to be wrapped up in my career. Am I really prepared to do that? It's not going to be something you can just coast through, then turn off and go home at five every day (which there's nothing wrong with!). That goes for a lot of other careers, too.
What do you think the coolest scientific discovery was and why?
I think medical discoveries are the coolest because they always have this serendipitous element to them. For example, the discovery of penicillin, a huge discovery that changed the world, was an accident.
Is there a project or effort that you are most proud of at the EPA?
I'm really proud of my contribution to establishing systematic review procedures and protocols for developing IRIS assessments.  It was a huge effort, but in the process, I learned so much from my incredibly smart colleagues that I'm lucky to get to work with.
Describe any steps you take in your daily life to protect the environment.
I recycle and I take my compost to a composting pile. I try not to drive very much. I metro or take a bike almost everywhere. In general, I just like to reuse things, and I don't like to buy new things unless I absolutely have no choice. I also try to buy things made from recyclable materials.
---
Editor's Note: The opinions expressed herein are those of the researcher alone. EPA does not endorse the opinions or positions expressed.