Meet EPA Geographer Alexander (Alex) Hall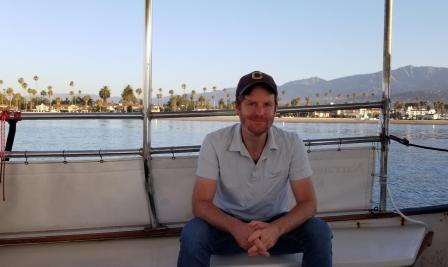 Meet EPA Geographer Alex Hall! EPA Geographer Alex Hall is an expert in data analysis and geographic information systems. He helped develop a tool to address the potential human and environmental risks associated with underground storage tanks.
What kind of research do you do at EPA?
My expertise is in data analysis and geographic information systems, so I spend a lot of time doing "detective work" with numbers and trying to understand spatial relationships between things. I like taking complex problems/dataset and distilling them into something digestible and meaningful. While I work on a lot of technical issues—refining a model, writing a line of code, or creating maps—I try to remind myself of the bigger picture and the real-world implications of the work I am doing.
Tell us about your background.
I grew up in rural Northeast Iowa and received a bachelor's degree in Environmental Policy from the University of Kansas. Soon after I joined AmeriCorps as an AmeriCorps VISTA where I was working with a local non-profit in Colorado helping employ young men and women in environmental restoration projects for local and federal agencies. I moved to Pennsylvania and received a M.S. degree in Geography from Indiana University of Pennsylvania. Shortly after graduating I took a job as a contractor at EPA's research lab in Cincinnati, Ohio, in 2013, and later participated in several student employment programs. I was recently converted to a federal position as a Geographer.
What do you like most about your research?
Working with such dynamic, dedicated, and smart colleagues on a daily basis is quite a treat both intellectually and personally. I'm very happy to be part of my team. Our team reccently launched a public facing web mapping tool called Underground Storage Tank (UST) Finder. I've been working on this project for over 2 years.
Prior to developing this tool, we didn't know exactly where over 500,000 leaking underground storage tanks were located, nor the 2.2 million underground storage tanks that have been installed in this country. UST Finder allows users to find UST facilities and leaking UST sites, resulting in better understanding and assessment of vulnerability to human health and the environment. The map and application provide users with geospatial information about UST facilities that may be subject to extreme weather events, such as floods and wildfires.
How does your science matter?
My work is addressing the potential human and environmental risk associated with an almost ubiquitous, yet mostly unseen, hazard—underground storage tanks. UST Finder web mapping tool is the first ever national dataset of all current and historic leaking underground storage tank sites, underground storage tanks, and underground storage tank facilities.
Information from the database can help regulators, owners, and operators take action to protect UST facilities from extreme weather events; rapidly identify facilities for emergency response personnel to control releases and protect the public; and rapidly identify leaking UST site cleanups impacted by floods and assist in restarting cleanups after floods.
When did you first know you wanted to be a scientist?
Honestly, I didn't know I wanted to be a scientist  until I was in my mid to late 20s when I was in grad school. I had some great professors who guided me towards the environmental sciences.
If you weren't a scientist, what would you be doing?
Maybe local journalism—taking after my father. Good local news reporting is important and can help communicate the sciences to the broader public.
What advice would you give a student interested in a career in science?
Find a small niche in the scientific community and try to learn everything you can about the topic. You don't need to become an expert at everything.
If you can have any superpower, what would you choose?
My superpower would be the ability to reduce carbon dioxide in the atmosphere to below 350 ppm (and keep it there).
What do you think the coolest scientific discovery was and why?
More of an invention, but I'd have to say the toilet/indoor plumbing. Something so simple has saved an estimated billion lives. Especially in the COVID-19 era, the importance of sanitation cannot be underappreciated.
If you could have dinner with any scientist, past or present, who would you choose and what would you discuss?
I've always been fascinated by Bertrand Russell's life. He was a true renaissance man. He was a mathematician, historian, and philosopher—his works were the foundation to modern analytic philosophy. But what really impressed me about Russel was that he was not just a scientist, but an activist as well. He was arrested protesting against nuclear armament and WWI. He was an anti-imperialist, advocating full British withdrawal from India, for example. When asked why he spent so much time on fighting against nuclear proliferation he said "look, if I and others like me only work on those problems [in the sciences], there won't be anybody around to appreciate it". If I could have dinner with him, I would discuss his activism and strategies going forward in making the world more humane.
---
Editor's Note: The opinions expressed herein are those of the researcher alone. EPA does not endorse the opinions or positions expressed.