Meet EPA Microbiologist Worth Calfee, Ph.D.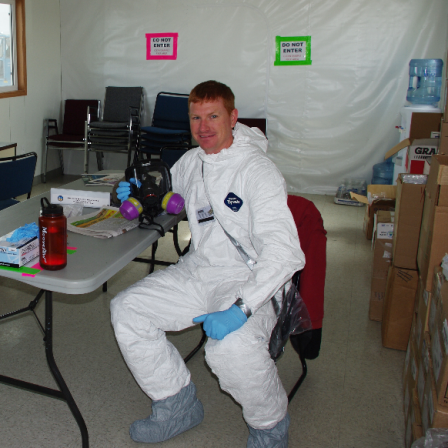 Worth in personal protective equipment at a field-scale test (BOTE, the BioOperational Test and Evaluation) in Idaho Falls, Idaho.EPA microbiologist Worth Calfee, Ph.D. focuses on improving methods for decontamination, sampling, and waste management after bioterrorism events and other biological incidents. 
Tell us about your background.
I was born in our nation's first Washington (Lil' Washington, North Carolina), and grew up in eastern North Carolina, where "real barbeque" is served.  I attended East Carolina University (go Pirates!), where I studied molecular biology during undergrad, then estuarine and oceanic microbial ecology during graduate school.    
When did you first know you wanted to be a scientist?
During my freshman year in college, I was fortunate enough to land a job as a student researcher in the Microbiology Department at East Carolina University's Brody School of Medicine.  My older sister had this job before me, but was leaving it to attend medical school.  Not long after I joined the lab I realized this was the career for me.  I enjoyed designing and conducting experiments with pathogenic bacteria to better understand disease.  
How does your science matter?
My science improves our ability to respond to a biothreat/bioterror incident.  Remediation following a biological incident is challenging.  Every response activity has an impact on other aspects of the response. My job is to help optimize response operations by enhancing methods for decontamination, sampling, and waste management, while keeping in mind that everything is connected.  
What do you like most about your research?
I like the applied nature of my work.  I conduct studies from the bench scale (petri dishes and test tubes) all the way up to field scale.  Few disciplines allow such variety, and it keeps my job fresh and interesting. I also enjoy working within an interdisciplinary team of scientists and engineers; I believe that diverse thought facilitates innovative solutions to the challenging problems we seek to overcome. 
If you could have dinner with any scientist, past or present, who would it be? What would you ask him or her?
As a student of Microbiology, I'd have to choose Louis Pasteur or Alexander Fleming.  Their accomplishments with vaccination and pasteurization, and antibiotics, respectively, have extended the quality and length of life for humans and animals alike. But as a child of the 80's, I'd be tempted to have dinner with Mr. Wizard. Many 30-, 40-, and 50-somethings today wouldn't be scientists if they hadn't been inspired by Don Herbert (Mr. Wizard). 
If you weren't a scientist, what would you be doing?
If I'm able to choose anything imaginable, I'd choose to be independently wealthy, and do whatever I felt like…
If you could have one superpower, what would it be and why?
Since I love to travel I'd choose omnilinguilism (the ability to speak and understand any language) or the ability to fly. Having both would be nice.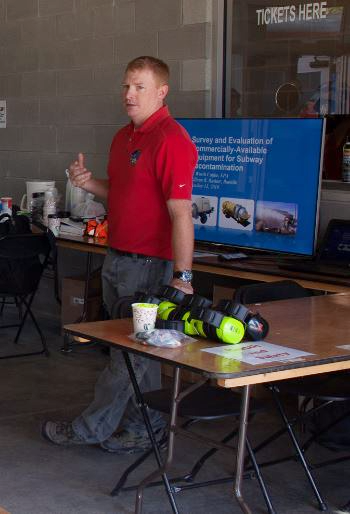 Worth giving a Brief-in for a Field-scale demo at Fort AP Hill VA, in conjunction with the DHS-sponsored Underground Transportation Restoration project.
Any advice for students considering a career in science?
Work hard to master the fundamentals while you are in school. Your knowledge is only as good as its foundation.  Also, well-developed creative and technical writing skills are critical for scientists.
What do you think the coolest scientific discovery was and why?
The phenomenon observed and described by Michael Faraday, that led to development of man-generated electricity was a pretty cool discovery.  Imagine how different our world would be today without it.
What do you think is our biggest scientific challenge in the next 20/50/100 years?
I'm afraid that emerging diseases will be a significant scientific challenge in the upcoming years.  Finding ways to detect, prevent, and/or cure new and exotic diseases will likely provide a constant challenge to scientists who are currently in school.  
Whose work in your scientific field are you most impressed by?
In the small, niche world of counter-terrorism research there are few Science Celebrities.  I'd have to choose my fellow EPA Homeland Security researchers.  I'm amazed every day at the creativity and quality of work that my colleagues produce.
You're stranded on a desert island with a community of other survivors – what is your job?
I suppose the microbiologist on the island would be responsible for fermenting the local grain or fruits, to make the party beverage. Either that, or helping sanitize water for drinking. I'd have to gauge the situation to see which task was more important.
---
Editor's Note: The opinions expressed herein are those of the researcher alone. EPA does not endorse the opinions or positions expressed.