Meet EPA Physical Scientist Andrea Clements, Ph.D.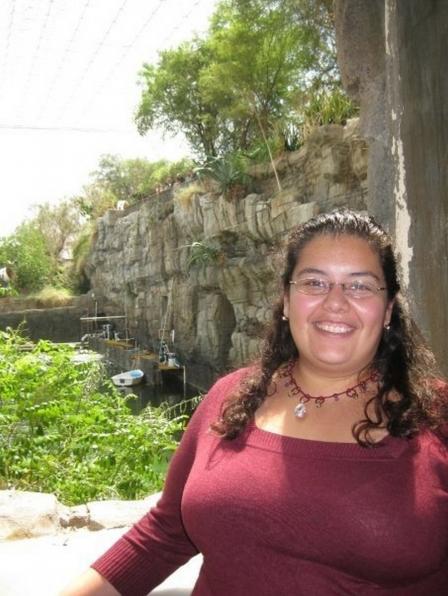 EPA Physical Scientist Andrea Clements, Ph.D.Dr. Andrea Clements is a physical scientist interested in characterizing ambient air quality. She holds engineering degrees from Washington University in St. Louis, the California Institute of Technology, and Rice University, where her research focused on characterizing ambient aerosols. Prior to joining EPA, she worked for Colorado State University to identify volatile organic chemicals (VOCs) emitting from oil and gas drilling operations. At EPA, she works to characterize emerging technology for measuring air quality. Her current work involves evaluating affordable air sensors and providing guidance for their use by a range of groups including community and individual users.
When did you first know you wanted to be a scientist?
I always really loved math and science and I was encouraged to go in that direction. I realized my abilities around seventh grade when one of my teachers told my mother, "Your daughter's doing really well in math, especially for a Hispanic," and I was like, 'Well, I guess now I really have something to prove." For me, it's really important to give kids the opportunity to explore and to never be told they can't do something. It definitely shouldn't matter what you look like or where you come from.
Another teacher in high school asked me if I had ever thought about becoming an environmental engineer. I had no idea what that was, but she told me a bit about her daughter who was an environmental engineer. It sounded exciting and like something I could do that would make a difference. That got me thinking about engineering and that's the path I decided to take in college.
How does your science matter?
We've done a lot of work to characterize how well a number of affordable air sensors work and to figure out how to clean and correct the data so that it can be more useful. We're trying to share that information with users so that they can make informed purchasing decisions and learn how to effectively use this class of technology. I think the aspect of empowering people to pick up and use lower-cost air sensors and make sense of that data is exciting. I like that we're able to share that knowledge with everyone, from an individual who buys a sensor to put in the backyard, to people who are doing research, all the way to state and local agencies who are trying to use them. I like being able to put information in people's hands.
Another aspect of our work is contributing to a larger volume of air quality data. We've done a lot of work to develop a U.S.-wide correction equation for PurpleAir PM2.5 data. That alone will help many state, local, and Tribal air quality agencies who need assistance in interpreting this publicly available data. The next phase involves figuring out how to integrate and co-display this sensor data alongside regulatory data. We have been working with the AirNow team on a pilot project integrating a layer of sensor data with regulatory data on the public-facing smoke and fire map. That pilot went live in August 2020 and has already proved valuable in mapping wildfire smoke plumes. It's a huge step for this space and I'm excited and proud that the work that we've done is enabling this.
What do you like most about your work?
I really love working with younger scientists. I'm really blessed that right now I get to work with a couple of great postdocs and students through the ORISE and the National Student Services Contract. It's exciting for me to help them learn about EPA, help them learn the skills that will make them effective communicators and great scientists, and build their careers by working on exciting projects. They bring SO MUCH to the team including great skills, energy, and motivation. It is such a pleasure to work with them.
Any advice for students considering a career in science?
Science is fun! It's fun to figure out how things work and why. It's ever-changing, so you'll never get bored. I think that a lot of the science jobs that will be around in 10 years are not around today. So, who knows what the future is going to look like!
Science is a way of making a difference. If you're motivated by that, it's a great field to be in. I would also say that science takes perseverance. You have to know what you want to do, and you have to work for that. There will be days where you think you don't have the skills, or you feel like you're hitting your head on the wall, but it's an awesome feeling when you work around your problem and make a breakthrough.
If you weren't a scientist, what would you be doing?
I think I would be the proprietor of a tiny home resort or retreat center in the mountains by a stream. I really love the cool mountains, beautiful views, and the sound of running water.
If you could have one superpower, what would it be and why?
Teleportation would be the best, especially right now when traveling has its drawbacks. Just think of how great it would be to instantly be in another part of the country. Instead of flying, I'd be there in an instant! The first place I would go would be to visit my family in Kansas.
What steps do you take in your daily life to protect the environment?
I really encourage carpooling, if possible. I recycle and I try to reuse a lot of things before they get recycled. I try to minimize trash. I also try to practice efficient energy use in the home, like heating and cooling. I try to regulate temperatures in other ways and I'm pretty conservative on the use of both.
---
Editor's Note: The opinions expressed herein are those of the researcher alone. EPA does not endorse the opinions or positions expressed.