Meet EPA Research Toxicologist Gerald Ankley, Ph.D.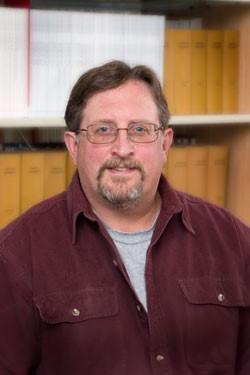 Dr. Gerald Ankley Dr. Gerald Ankley joined EPA in 1988 as a research toxicologist. His research currently focuses on assessing the ecological risks of per- and polyfluoroalkyl substances (PFAS).
In 2017, Dr. Ankley was selected as a Distinguished Rank Recipient for the Presidential Rank Awards, the top award a civilian federal employee can receive. He was also honored as a Career Achievement finalist for the 2018 Samuel J. Heyman Service to America Medals for his three decades of work to establish techniques and standards to identify dangerous chemicals and prevent them from contaminating America's lakes and waterways. 
What research at you currently working on?
My current emphasis is facilitating the development and implementation of a research program focused on assessing the ecological risks of per- and polyfluoroalkyl substances (PFAS). Much of the research emphasis on PFAS to date has involved human health effects, but these chemicals are ubiquitous in the environment and given characteristics of some compounds in this class (e.g., persistent, bioaccumulative), there is the potential for adverse environmental impacts as well. Given the large number of PFAS of possible concern (hundreds to thousands) and the lack of data for most of them, there is a pressing need for predictive approaches to help assess potential risks.
How does your science matter?
My research at EPA has consistently involved the development of approaches and tools that can be practically and efficiently applied to current and emerging challenges faced by ecological risk assessors in a variety of regulatory settings. For example, the test methods for contaminated sediments and endocrine-disrupting chemicals developed and validated in our lab are used throughout the world, and the Division has provided key leadership in the introduction of predictive approaches to the field of ecotoxicology. An example of this is description and implementation of the adverse outcome pathway (AOP) framework. The AOP framework aims to support the practical use of predictive toxicology data and tools through making causal linkages between measurements made in short-term in vitro and in vivo tests and adverse effects important to assessing risk.
Tell us about your background.
I grew up in the "thumb" area of the Lower Peninsula of Michigan on a dairy farm and did my undergraduate work at Oakland University in Physics and Michigan State University in Fisheries and Wildlife. I did my graduate work in Fish Physiology and Biochemistry at the University of Georgia, followed by a 1-year postdoc in the Center for Environmental Toxicology at Michigan State University. I have been at EPA's Great Lakes Toxicology and Ecology Division in Duluth, Minnesota, since 1988, where I have worked on a variety of ecotoxicology topics, including development of methods to assess the effects of contaminated effluents and sediments on aquatic life, identification and evaluation of the consequences of endocrine-disrupting chemicals in the environment, and the development of predictive toxicology concepts and tools suitable for ecological risk assessment.
What do you like most about your work?
There are several intertwined aspects of my job that I enjoy; the first involves the applied nature ot the research needed—it is very gratifying to be able to tackle a problem and see a practical "solution" emerge. I also enjoy the challenge of working on a wide range of issues. While it can be daunting to start in a new area of science, the challenge is both stimulating and fulfilling. Finally, and most importantly, I have valued the opportunity to work with so many smart, dedicated colleagues during in my time with EPA.
When did you first know you wanted to be a scientist?
I have wanted to be a scientist since I was in grade school. I was fascinated by space/astronomy, which is why I started my college education in physics. Unfortunately, by my third semester of calculus, I realize that perhaps this was not my best route to a career in science. Fortunately, about that time I took an advanced biology course that caused me to change my major (and school), starting me down the path to where I currently am.
If you could have dinner with any scientist, past or present, who would it be? What would you ask?
I would like to have a dinner conversation with Aristotle. His diverse contributions to everything from basic philosophy to science logic and social responsibility have (in my mind) immeasurably influenced science and society. I don't know that I could identify any one question, but given the breadth of his interests, there would be lots to talk about, and I am sure he would be fascinated to see how things have evolved in 2000+ years.
If you weren't a scientist, what would you be doing?
I would be a farmer—likely due to my upbringing I remain very attached to the land and animals. I already sort of do this—we live on a small "hobby" farm about 20 miles north of Duluth, with a variety of gardens and animals and (sometimes too many) buildings, fields, etc., to take care of…
If you could have on superpower, what would it be and why?
I think that precognition would be a useful superpower in terms of successful experimental design.
Any advice for students considering a career in science?
Be flexible in terms of selecting what you work on—very few successful scientists end up exactly where they planned to be when they started. The critical thing is to keep moving ahead on topics you think are important and are personally fulfilling.
What do you think the coolest scientific discovery was and why?
Definition of the chemical structure of DNA, while often debated in terms of personal credit, has been without a doubt the most important contribution to the modern science of biology. The insights and practical applications to virtually all biology disciplines (including medicine) initiated through this one discovery are immense and, ultimately, are going to be the basis for navigating through our current crisis.
---
Editor's Note: The opinions expressed herein are those of the researcher alone. EPA does not endorse the opinions or positions expressed.