Meet EPA Researcher Endalkachew Sahle-Demessie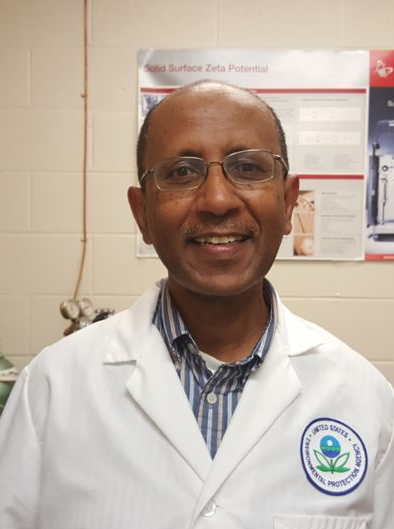 EPA Researcher Endalkachew Sahle-Demessie!Chemical and Environmental Engineer Endalkachew Sahle-Demessie, Ph.D., works on various projects, including nanomaterials and water resources, in EPA's National Risk Management Research Laboratory.
Tell us about your background.
I am originally from a small town in Ethiopia that was near a large sugar factory.  I went to college in Ethiopia where I studied chemical engineering. I came to the U.S. for graduate study—I got my masters and Ph.D. at Oregon State University. Afterwards, I came to EPA-Cincinnati for a post-doctoral position, and stayed here.  
When did you first know you wanted to be a scientist?
I know that in elementary school I was interested in asking questions.  We didn't have the same utilities that we do here in the U.S., but we had good teachers—teachers that told us science and math are everywhere around us.  When I was in fifth grade, I had a teacher that said, "Science is about asking questions. We don't have all the answers." I was surprised because until then I thought that teachers had all the answers. They told us to ask why – why things happen and why the things we see are the way they are. We were encouraged to read and to think critically. By asking why about various aspects of the natural world, my fascination of science continued.  
How does your science matter?
We live in an ecological age where there is a lot of intersection between science and technology and sometimes it is hard to see the science behind new technology. I see the use of my science in a wide range of areas from cleaning up contaminants to curing terminal diseases. My work helps develop a scientific understanding of the natural world and how we can use nature to benefit mankind.
What do you like most about your research?
The nature of my work has been constantly changing from the time I started here in the mid 90's. In the beginning, we were doing a lot of legacy work like cleaning contaminated sites. The ways in which we used to think are very different from how we are thinking now.  Our new information technology and analytical science have allowed us to improve.  The problems we approach now are geared towards sustainable issues and long-term benefits—specifically related to the relationship between energy, water, and food security. We are constantly learning. I have really enjoyed my time here being involved with different projects and learning about the different natures of each. 
If you could have dinner with any scientist, past or present, who would it be? What would you ask him or her?
I remember listening to a presentation by Richard Smalley who contributed to the discovery of nanotubes. It was very fascinating to listen to his talk, especially when we had the need for energy research. Hearing what he had to say and understanding his vision with nanomaterials definitely inspired me, especially with my current project of understanding the implications of nanomaterials on drinking water systems. 
If you weren't a scientist, what would you be doing?
I like fishing, but if I weren't a scientist I would be a teacher.  Teachers were the ones who inspired me when I was younger and that is one thing I would like to do. 
If you could have one superpower, what would it be and why?
A lot of the problems I see are related to energy, sustainable energy sources, and water issues. If we could convert solar energy into a 90-100% useful form that would be very beneficial to humankind. The other power I would want to be able to have is to easily and effectively convert seawater into drinking water. I believe that without water there is no future.  Energy and clean water are the number one issues that we need to focus on.
Any advice for students considering a career in science?
It depends on the age of the student— you could tell students that scientists don't only study science and nature because it is useful, nice, or a delight.  Ultimately, it is beautiful.  There is so much to understand and know in science. There is a quote by Henri Poincaré, "If nature were not beautiful, it would not be worth knowing, and if nature were not worth knowing, life would not be worth living." So the role of the scientist was to understand the beauty of nature.  Beyond that, for high school students who are trying to decide which field they want to go, there are many jobs that you don't necessarily need to wear a white coat. There are a wide range of roles you can play and not work in the lab, but still be successful.
What do you think the coolest scientific discovery was and why?
It depends on what time period we are looking at. In the early nineteenth century there were a lot of new findings with physics, but in the last 23-40 years we see a lot of discoveries in biology and medicine that show a lot of progress from gene mapping and gene editing to stem cell applications. Some of the early findings of the mid-20th century—like the discovery of antibiotics, DNA, and gene mapping—are very cool and opened up the door for a wide range of applications.
What do you think is our biggest scientific challenge in the next 20/50/100 years?
In the next 20-50 years our biggest challenge will be acquiring an ecofriendly energy source because of our limited life and quantity of fossil fuels.  Ultimately, energy, water, and food security issues are all tied together.  Our population is increasing—we need a sustainable energy source that will last a long time.  Long term, our biggest issue is climate change and our adaption to climate change will be our challenge. It will continue to be an issue and it will require a wide range of adaptions in our day-to-day life.  It requires policy makers, innovators, scientists, and researchers to combine efforts to overcome this challenge.
Whose work in your scientific field are you most impressed by?
I read a lot from people who are currently working on climate change issues.  Michael Mann, for example, helps us understand the science behind climate change. His work teaches us that it is not only about the findings of new discoveries, but it is also about the importance of having the ability communicate this to policymakers and to the public.  I find his work and his talks very interesting. He discovered patterns in the path of climate change and used that to understand how a situation may develop in the next 100 or 200 years. Sometimes these issues do get a little blurry so we need people, like Michael Mann, who can communicate the challenge we are facing. 
You're stranded on a desert island with a community of other survivors – what is your job?
My job is to survive! I have seen places where survival is critical so I guess coming up with survival resources would be my role. 
---
Editor's Note: The opinions expressed herein are those of the researcher alone. EPA does not endorse the opinions or positions expressed.