Meet EPA Researcher Justin Bousquin, MBA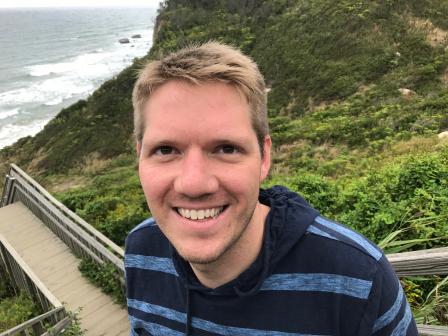 Meet EPA Researcher Justin Bousquin!EPA social scientist Justin Bousquin works on models, maps, and tools to help communities make environmental decisions. This includes work on projects like the Rapid Benefits Indicator approach— which focuses on wetland restoration and prioritizing site restoration based on the different benefits that sites provide to people.
What kind of research do you do at EPA?
I focus on how people and society interact with the environment. I look at what the environment does for people, the benefits that it provides, and where these benefits take place. An important side of that is the people side--what do those benefits mean to a community? How and why do they value them? Where are they most needed but missing? We want to know how we can use that information to make better decisions.
What is your background?
I got my bachelor's degree in Marine Biology at the University of Miami. I was focused on tropical benthic ecology, mainly coral reefs. Miami was the perfect setting because there were coral reefs right there and we could go diving every weekend.
When I finished my degree, I made a switch and went back home to Rochester, NY, to get my Master of Business Administration at the Rochester Institute of Technology. When I came to EPA, I worked on a coral reef valuation study; it was the ideal fit because it merged my biology and economics backgrounds.
When did you first know you wanted to be a scientist?
Sometimes I still don't think of myself as a scientist. Young me would have pictured a scientist in a lab coat staring into a microscope, but a lot of what I do is on a computer. I first became interested in science while visiting my grandparents out on Cape Cod. I remember having a lot of fun beachcombing--walking along the beach and seeing all the little critters that are in the area between the estuary and the beach or in tide pools. That's when I first really became interested in this field.
What do you like most about your research?
I like that we are always working on new problems, figuring new things out, and looking at the system as a whole rather than focusing on a specific part. It's also really rewarding to see the tools we develop get used and actually effect change. There is definitely a value to science for the sake of science, but it's great to do science that is applicable to policy and helps communities make decisions.
How does your science matter?
The research we are doing is making a connection between people, the environment, and decision making. People don't make decisions to harm the environment on purpose. Usually, it's either because they don't know the impact of their actions or they consider it a necessary trade-off. Our research is important because it measures the trade-offs of our decisions.
For example, we are modeling how water quality improvements in Cape Cod might result in fewer days of beach closures or more beach visitors. Our models evaluate the positive impacts of improving water quality, which makes it easier for the watershed managers to justify their decisions.
If you weren't a scientist, what would you be doing?
I would be creating something. I don't know exactly what that something would be—maybe developing some sort of app or brewing beer.
What advice would you give a student interested in a career in science?
Don't be afraid to take some classes outside of your focus area. One of the things that was really beneficial to me was going from a science undergraduate to a business graduate program. It exposed me to something completely different and I've been able to find a niche marrying those two areas of study.
I would also recommend taking some type of programing class. With science, even if you are doing mostly field work, at some point you will be back in the lab analyzing your data and being able to do some programing will help there.
 If you can have any superpower, what would you choose?
Manipulating time. We always wish we had more time. And on the science side, if I'm running an experiment, I would be able to jump ahead to the future and see if it works. If it didn't, I could jump back and fix it.
What do you think the coolest scientific discovery was and why?
All of the individual discoveries that went into satellite data and our remote sensing capabilities. We can look at less than a meter of some remote location that would take days to get a field scientist out to and we can analyze it and learn so many things about that little area. That just wows me!
If you could have dinner with any scientist, past or present, who would you choose?
I'd like to talk to explorer-type scientists like James Cook or Alexander Humble. The people from back when it was a bit more of an adventure to be a scientist. Most of what we do now builds on what others have done, but in the past they were just starting from scratch. What they were able to figure out from that point is impressive.
---
Editor's Note: The opinions expressed herein are those of the researcher alone. EPA does not endorse the opinions or positions expressed.