Meet EPA Researcher Sarah Taft, Ph.D.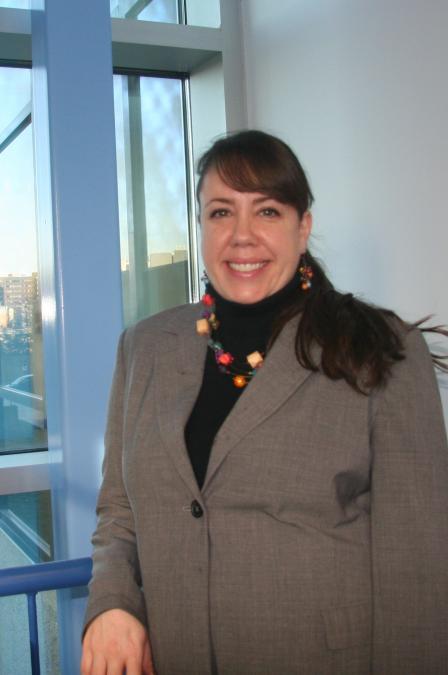 Meet EPA researcher Dr. Sarah Taft.EPA scientist Sarah Taft, Ph.D., researches how we can measure and clean up contamination after a disaster. Through her work, EPA has greater ability to respond to emergency situations and protect communities.    
Why does your science matter?
My research focuses on responding to intentional chemical, radiological, or biological agent releases and disasters, like flooding, hurricanes, earthquakes, and anything that's going to cause spills of chemicals or unnatural growths of pathogens. I look at how to test the environment for contamination after an incident has occurred. After I have a sample, I figure out what that sample means and what we need to do, if anything, to clean it up and get rid of the contamination.
A few years ago, I worked on the Underground Transport Restoration Project - Operational Technology Demonstration. We created a simulation of a biological disaster in a subway system to test our response methods. We wanted to know where and how we should take samples, and how many samples to take in the subway to determine how bad the contamination was. After we went in and decontaminated it, we had to figure out if we had successfully decontaminated the subway. We were taking what we had learned in the lab and testing it to see if it would work in a real-world environment.
Tell us about your background.
I got my Bachelor's in Biology from the University of Kentucky and my Master's in Biology at Middle Tennessee State University. Then, I came to Cincinnati to get my Ph.D. in Microbiology at the University of Cincinnati, where I studied the effects of anthrax toxins on cells.
When did you first know you wanted to be a scientist?
For me, it was AP Biology in high school. I thought learning how the body works was amazing. I especially liked microbiology. Learning how a tiny, one-celled bug could take down a large human body was fascinating.
What do you like most about your research?
I like that I work directly with our EPA responders who are out in communities. We can see how our science helps those communities. I like seeing the direct impact of addressing the problem, doing the quick research, then handing that solution back over to the responders to implement it in their communities.
If you could have dinner with any scientist, past or present, who would you choose and what would you ask them?
For me, it would be Rosalind Franklin. Most people do not recognize her name, but she was responsible for much of the research that led to the discovery of the structure of DNA. Without her work, Watson and Crick would have never determined the structure of DNA and received the Nobel Prize. She was never really credited with the foundation of that important work and died at a very early age before she could see the impacts. At our dinner, I would like to show her how many advances we've made because of her work.
If you could have any superpower, what would it be?
I hate to see people suffer, especially children, so if I could have any superpower, I would probably choose to be able to heal and mend others.
What advice would you give students who are interested in a career in science?
I would say that they need to learn about what opportunities are out there in science beyond traditional academia. Talk to as many people as you can to understand how you can use your science degree in your job. That's how I found my job. I would've never known a job like this existed, had I not attended a seminar when I was a graduate student. I went up to the speaker afterward and said, "I want to do what you do. How do I do it?" By talking to her, I found out what opportunities were out there.
I'd also say, don't get lost in the details of what you're studying. Your science career is all about learning how to solve problems. It's important to build your problem-solving skills. That's what you'll be using in the workplace.
In your opinion, what is the coolest scientific discovery?
As a microbiologist, I would say Alexander Fleming's discovery of the antibiotic penicillin. I love the fact that he found something amazing while looking for something entirely different.  Without antibiotics, where would we be right now?
What is our biggest scientific challenge in the near future?
I think we're still going to be figuring out how to cure disastrous diseases like cancer and AIDs. We've made headway, but we still have a lot of work to do until we can defeat these for all affected.
Whose work in the scientific field are you most impressed by?
I am most impressed with the innovative science from my colleagues here at EPA's Center for Emergency Response and Environmental Solutions.  I am blown away by all of their applied research solutions every day.
If you weren't a scientist, what would you be doing?
I would be a teacher. One of my favorite parts of graduate school was teaching science to non-science majors. If I could get any of them interested in science, I felt like I had done a good job. I love communicating and sharing the world of science with others, so I'd probably be doing that.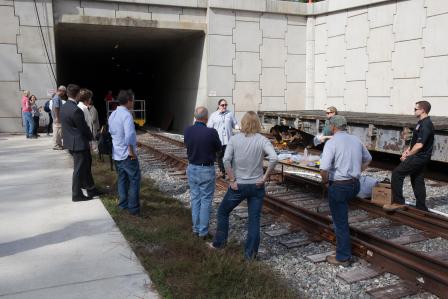 Dr. Taft demonsrates sample collection methods to a tour group on VIP day at the Underground Transport Restoration Project- Operation Technology Demonstration.Learn more about EPA's  work on the Underground Transport Restoration Project. 
---
Editor's Note: The opinions expressed herein are those of the researcher alone. EPA does not endorse the opinions or positions expressed.